---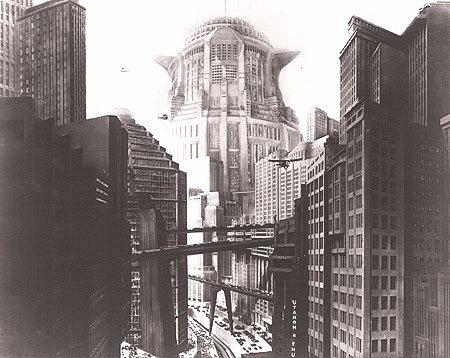 From Cinematic Art To Pop Culture and The Stage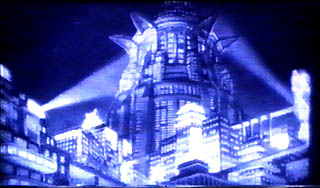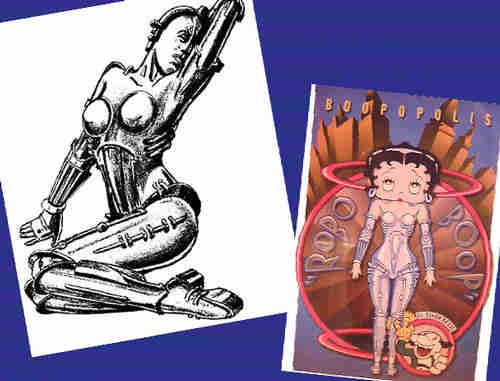 UPDATED AUGUST 17, 2002--The Audio Book cover and The New Restoration Poster
"Metropolis" is repteadly cited as:
--THE seminal science fiction film
--the supreme distillation of German Expressionism, seen in its more stark and stylized form in "The Cabinet of Dr. Caligari"
--one of the most important films of the silent era
There is a resurgence of interest in the film, due to its attractive fairy tale-like approach to the omnipresent and disturbing question about the ultimate effect machines have on our humanity.
The imagery alone especially attracts young audiences who enjoy its still bizarre Art Deco visions, most notably, the famous Robot of the film, to which C3PO of "Star Wars" was designed to be the male counterpart.
"Metropolis" images are now being aborbed into pop culture (see the Marilyn Monroe and Betty Boop versions of the robot above), and that indicates to what degree it has become a common part of our collective consciousness.
Over the last twenty years recording artists such as Led Zeppelin and Bob Dylan have had "Metropolis" artwork incorporated into their promotions. Today, "Metropolis" is a theme found in recordings as diverse as new-age, jazz, and punk rock.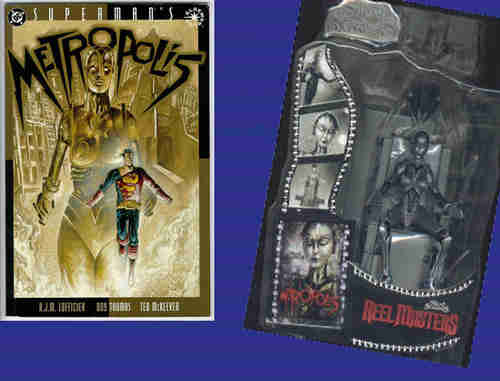 The "Evil Maria" robot of the film has even become an action toy figure! A Superman comic book has retold the story with the main characters cast in the mileau of the Superman universe. Video tape versions (mostly of wretched quality) are readily available, where they are currently generating inflated prices for vendors on the Internet's "eBay" auction site.
---
---
Joseph Brooks, composer of the Academy Award winning song "You Light Up My Life," of numerous film scores, and film director, has written an engrossing modern dramatic pop/rock musical version of "Metropolis."

It is Joseph's work which we will be adapting to The Pentacle's stage and resources.

The classic film was Brooks' inspiration, and as with the original London produciton of his musical, the sets and costumes at The Pentacle need to draw inspiration from the film's famous images--BUT, we are concerned with mounting an entertaining STAGE production, not with trying to recreate the movie on stage---a project which would be misguided and impossible to achieve in any case.

So while it is to the advantage of Brooks as well as The Pentacle that there is a growing awareness of the movie, and while we must never cease to draw our inspiration from the movie and the novel it's based on (by Fritz Lang's wife Thea Von Harbou)---it is still our goal to create an original theatre piece from Brook's composition, and one which stands on its own artistic merits, independent of the film.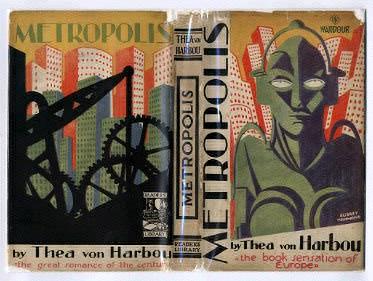 Dust cover for the original edition of the "Metropolis" novel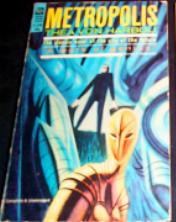 1960's paperback edition which was read by R. Bowser before he ever saw the film
---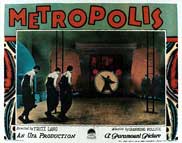 Click the original lobby card for the musical's song list and listener opinions
---
click the Pulsar for the list of links to all pages or use the box below

NAVIGATE THROUGH
THE WORLD OF
'METROPOLIS'