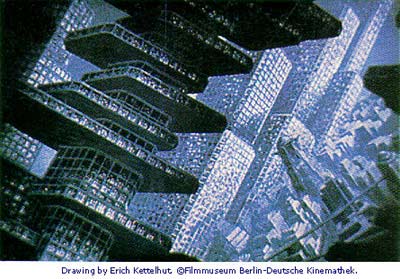 Disc: 1 (Act One)
1. Opening/101.11/Look, the Sun, Maria
2. Hold Back the Night
3. The Machines Are Beautiful
4. He's the Distant from Me Now
5. Elitists' Dance
6. Oh My, What a Beautiful City
7. This Is the Vision We're Forbidden
8. Children of Metropolis
9. 50,000 Pounds of Power/One More Morning
10. It's Only Love/Bring on the Night
11. Pressure Chant/Day After Day
12. When Maria Comes
13. Your Are the Light
14. The Girl Is a Witch
15. It's Only Love (Reprise)
16. The Sun
17. Almost Done
18. I Don't Need Help from You/There's a Girl Down Below/Futura: End of Act
Disc: 2 (Act Two)
1. Nothing Really Matters
2. I've Seen a Nightmare
3. This Is Life
4. Look at This Girl Who Stands Before You
5. Futura's Dance
6. Where Do You Think She's Gone, Your Precious Maria?
7. If That Was Love
8. Listen to Me
9. Learning Song
10. Old Friends
11. When Maria Wakes
12. Futura's Promise/Maria's Insane
13. Perfect Face
14. Haven't You Finished With Me?
15. Let's Watch the World Go to the Devil
16. One of Those Nights
17. Requiem
18. Metropolis
19. Finale

Bonus tracks
20. It's Only Love/Bring on the Night
21. One of Those Nights
---
Listener reactions
---
"'Metropolis' - almost like being there!"
"Metropolis" was another casualty of the London theatre scene in the late 1980's and this is sad. It came at a time when other pop opera's like Les Miserable, Cats, Phantom of the Opera and Starlight Express were doing great business. "Metropolis" failed to find an audience however, despite the brilliant performances of Judy Kuhn, Graeme Bickley and Brian Blessed.
Sadly, the stage production will be lost to the ages as it was not videotaped. But the CD is a pleasant reminder of a show that had all the qualities of a hit, but not the audience.
The melodies glide seamlessly between desperate pulsing rhythms of the workers under to the city to the lighthearted whimsical tunes of the elitists above ground. A soaring duet between Bickley and Kuhn called "If It's Only Love" would stand easily on the pop charts today.
Even if you never saw the musical, you will be able to listen to the CD and get the feel of this stage interpretation of Fritz Lang's classic movie of the same name.
---
"The CD is Beautiful"
When it comes to buying cast recordings, I'm as bad as any addict. I see something that interests me, I have to get it. That's what happened with Metropolis; I knew nearly nothing about it (I had heard It's Only Love/Bring on the Night) on a compliation CD) and had never seen the movie. I knew the show was a flop. That's about it. So I really did not know what I was getting into when I bought the CD.
To put it simply, I was amazed the show did so poorly. The music IS beautiful. Some of the lyrics are a bit difficult to make out (a copy of the libretto in the liner notes would have been nice) and some of the recording sounds somewhat hollow and tinny, but those songs!!! Songs like "You Are the Light," "The Sun," "He's Distant From Me Now," "Hold Back the Night" and of course "It's Only Love/Bring On the Night" are better than songs from some more popular shows. Much better. I suppose the score most reminds me of a combination of Chess, Weird Romance, and the better parts of Starlight Express. Yes, some of it is strange (those who've heard "Futura's Dance" know what I'm talking about!) but it's still well done. The performances are strong, and there is enough dialogue on the CD that it is easy to figure out what is going on (Beware - listen to the second disc at a high volume at your own risk, there's a gun shot on there that startled me big time - not the best while driving....)
Anyway, the CD is worth experiencing. Go ahead, treat yourself to something new and exciting!
---
  "The BEST musical I have ever heard!"
--A 12-year old music fan--
I have seen Metropolis when I was very young and was supposed to play Marta! I cannot believe how grand it really is! It was truely an extrodinary production and it's kinda too bad that it didn't last too long at the picadally theatre in London, Judy Kuhn was just amazing in it! I believe that brian blessed is BY FAR one of the greatest actors of this day and Judy Kuhn, well nothing can express what I feel for Judy Kuhn's amazing voice as well as her ability to act! :-)
I believe that Metropolis is worth buying! It is very exilhurating listening to The Children Of Metropolis, it actually sends chills down my back listening to that song over and over again! I give Judy Kuhn 10000000 points for her efforts to play Futura as well as Maria....and also Brian Blessed is wonderfull! I encourage everyone to listen to this album at least once in the near future!
---
"A rare find!"
My business often took me to London and I was very fortunate to have seen all the "big" shows (Cats, Les Miz, Phantom, Chess, Miss Saigon) prior to them coming to Broadway. One Saturday evening I wanted to go to the theatre and was not sure what to see. I settled on Metropolis and loved it. I actually got to see it one more time before it closed.
The CD is exceptional and the songs are beautiful. In my opinion, this show could be revived and with a bit re-working, could be successful! If you enjoyed the soundtrack from Les Miz, you'll love Metropolis!
---
Click HERE for a description of the musical, photos from the original production, and snippets from the songs
---
click the Pulsar for the list of links to all pages or use the box below

NAVIGATE THROUGH
THE WORLD OF
'METROPOLIS'