THIS AND THE FOLLOWING PAGES WERE USED FOR RECRUITING "HAiR" VOLUNTEERS
in Salem, Oregon, 2000
Volunteering To Help Produce HAiR
Pentacle Theatre in Salem, Oregon, is producing "HAiR The Tribal Love-Rock Musical" which runs from September 22 through October 14 of 2000.

"HAiR" is by Gerome Ragni and Jim Rado, with music by Galt MacDermot. The Pentacle's revival of "HAiR" features newly honed material by Jim Rado, which he has granted the theatre special permission to be incorporating.

The production is being directed by Randy Bowser, who directed Pentacle faves "The Pirates of Penzance", "The Importance of Being Earnest", "The Mystery of Edwin Drood", and other best selling shows.

Click on the Kama Sutra lovers to send an e-mail to Randy Bowser now!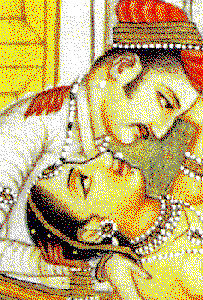 Choreography is by Lisa DeCina who made "Pirates" leap in 1999. Costumes are by Roxy Garrison who has designed for all of Bowser's visually impressive productions.
Jon Miho, Philosopher at Large and all around Theatre Person Extraordinairre, will help massage the production into shape as Assistant Director.
Tony Zandol, The Pentacle's Tech Director and scenery wizard, is collaborating with Bowser and newcomer Scot Jenkins on a junk-yard/jungle gym set which will feature a 9'x12' projection screen integral to the production's multi-media concept.
The band which rocked the theatre with 1999's "Little Shop of Horrors" will be back to make the classic '60's score of "HAiR" live again.

Click on the theatre's logo to be taken to our home page.


---