Have a cup of Metro Java with the director!
the story of how science fiction expert FORRY ACKERMAN inspired me and a whole generation
and how composer JOSEPH BROOKS agreed to our production
---
Metropolis!
For some years now, I have been enjoying the tremendous fortune of directing plays which have very personal meaning to me.
"The Importance of Being Earnest" I have considered the most brilliant comedy written, ever since I first discovered and explored the writings of "The Lord of Prose," Oscar Wilde, many moons ago. Finally geting to work with that script in a Pentacle Theatre production was a very special gift from the theatre gods.
"The Pirates of Penzance" has had a magical effect on me since I was in grade school, and the family record collection included Gilbert and Sullivan selections. To stage that quintessential zaniness years later was again the kind of experience I would have thought too wonderful to dare expect.
"Hair"---or as us fans type it, "HAiR" (to emulate the infinity symbol dotting the "I" in the original poster design) is a theatre piece so unique, so important in 20th Century stage history, so impossible to count on as a project one would ever actually get to direct.
Gathering "a tribe" and mounting my interpretation of the famous/infamous rock musical was nothing short of an amazing experience for me and the whole company. To be working with those songs and that avant garde script---a musical which had long since been part of the fabric of my life---I'm still in a state of surprise that I was ever so fortunate.
"Metropolis." Now there is this project, and one which has no less a history of deep personal connection to me...
---
At the age of 13 or 14, I discovered "Famous Monsters of Filmland."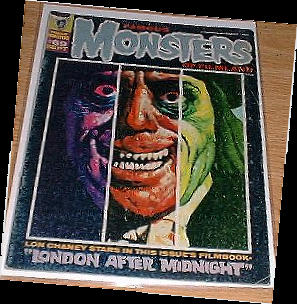 It was an expensive magazine for the time (50¢) and unlike anything else on the stand. Nothing but page after page of pictures from movies featuring monsters, fantasy, and science fiction. Sprinkled in around the photos was casual breezy text by Forrest J. Ackerman---the world's foremost horror and science fiction fan. Years later, the likes of George Lucas and Steven Speilberg cite "Forry" as an important early inspiration to them.

There in the pages of his eye popping magazines, I first heard of the 1926 German silent film, "Metropolis." In an article dedicaed to the film, Forry fondly recollected how seeing this seminal sci fi film was the turning point of his young life.

Forty years later he was instilling in his young readers an appreciation and even a reverence for "Metropolis" and other classic films such as Karloff's "Frankenstein" Lugosi's "Dracula" and Lon Chaney's "Phantom Of The Opera"

Around 1966 I was on vacation with my parents in the L.A. area. They were nonplussed when I told them I was going to call Forry Ackerman and ask if we could see his museum-like house during our stay in southern California.

In his magazines, Forry often encouraged fans to look him up when they were in town---so I was taking him at his word, and it turned out he had written exactly what he meant, despite my parents' warning that I probably wouldn't be able to visit the man.

"Who dares disturb the sleep of the vampire?!" the voice emitting from a voodoo mask on the front door was demanding of me. I nervously replied "um, it's me, Randy"-- and like a classic eerie effect in an old movie, the door slowly swung open as if by magic.

The next hour or so was an unforgettable vist with the first adult I'd ever met who was truly and completely sincere in his enthusiasms.

I still recall the layout of that Beverly Hills home---and the way every square inch was laden with a lifetime of collecting memorabilia. The death mask of Bela Lugosi hung on a wall---the Pterodactyl from "King Kong" was suspended from the ceiling--first edition books of classic sci fi literature lined the kitchen cabinets----and there, in the dining room, was a huge photographic blow up of the Art Deco wonderland of a futuristic city which is the centerpiece of "Metropolis."

Forry was very eager to hear if I had ever seen the film. Alas, in those days before the video tape revolution, it wasn't so easy to see a movie of choice. I remember scouring the TV Guide weekly, in hopes of finding late night showings of the movies Forry so lovingly introduced his fans to. I would wait for a year at a time to catch another screening of "King Kong," for instance---and take 35 mm snapshots of the TV screen when it was on, the better to retain those beloved images.

"...no" I said with a voice full of as much unhappiness as a kid would have years later if he had somehow missed the first release of "Star Wars." I told Forry that I had read the novel though. There was a small paper back edition of that strange book which featured an introduction by none other than Forry himself.

It was from that paperback that I wrote and directed an audio "radio drama" version of "Metropolis" as a special project in a creative writing class in High School. Somewhere in a storage box there must be the reel-to-reel tape master of that recording.

"The Ackermonster" (one of several alter egos Forry created in the pages of his magazines) then told us that the very next morning he was on his way to Europe, where the highlight of his trip would be to meet the men still living who had been builders and technicians on the production of "Metropolis."

Forry's eyes got dreamy and distant as he told us the story of seeing the movie with his grandmother, and how the miracles he saw up on the screen set his life's path in a world surrounded by the fantastic realms of sci fi and horror.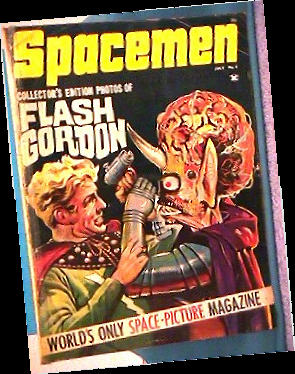 He became a literary agent for science fiction writers---he edited his genre magazines (which also included "Spacemen" and "Screen Thrills Illustrated")---and over the years has collected one of the most extensive collections of its kind. Items such as rare first editions of horror novels, original Spock ears worn by Leonard Nimoy, and sci fi movie posters cram his home in L.A. and numerous storage units.
Cut ahead 15 years. I was living in Hollywood. I was directing a science fiction play at The Masquers Club. I contacted Forry and arranged for him to be the Guest of Honor opening night--and what a night it was.

The play was "R.U.R." (Rossum's Universal Robots) and was something else I first learned about through Forry's writings.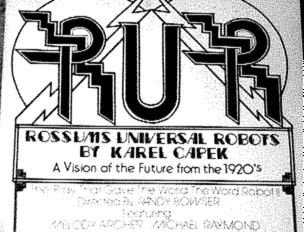 This is the poster from my production. Click it for a shot of the set which made doorways out of large art deco "R's."
"R.U.R." is an expressionist piece of social commentary by Czechoslovakian Karl Capek, it was the first "dream project" for me as a director. I had adapted the script when I was in Junior High---now years later I was directing an updated adaptation of it in Hollywood, and Mr. Science Fiction himself was there to christen the production.

Forry was a delight, giving the audience some background on the show before the curtain went up. He had with him not only the original Czech edition of the script, but a pulp fiction style poster for a film version of the play which was never completed. Leave it to Forry to have so rare an item as a poster for a film that never was!

The evening was a huge success with both Forry and the audience. The science fiction writer's group that he was a member of adopted the show as an on-going event for themselves, and were there every night excitedly talking about the show and science fiction in general down in the Masquers Club's English pub style bar.

Ackerman had the entire cast over for a tour of his house which had as the new centerpiece to his collection, a beautiful full size replica of Futura, the robot from "Metropolis"! He gave us all fold up photo-posters of the film which I still have several copies of in my own collection.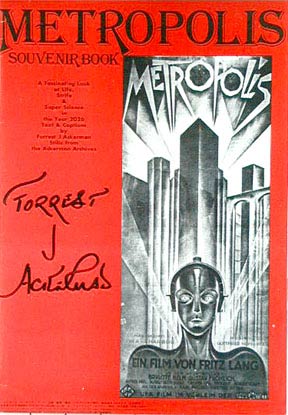 Hanging on a wall, I have one copy of it opened up to a large photo of the robot which Forry's poster book features.

Forry still lives in L.A. and his house is still a museum and mecca for fans the world over. He is the person most often turned to when a writer or television director needs background info on anything regarding sci fi/horror history.

Cut ahead some 20 years. Here I am again, working with material that Forry first introduced me to. If I could arrange for the grand old gentleman of sci fi (he coined the term "sci fi" by the way, during the heyday of Hi Fi recordings in the late '50's) to be at the opening night of "Metropolis," it would be a wonderful full circle.

But how does one stage a theatrical version of a movie known for its gigantic sets, thousands of extras, and endlessly complex imagery? Glad you asked.


Enter Joseph Brooks, Academy Award winning composer of the hit song "You Light Up My Life." He and his collaborator, Dusty Hughes, composed a pop-rock dramatic musical version, rather in the style of modern musicals such as "Evita" "Phantom of The Opera" "Cats" and "Les Miserables."

Full of infectious and gut-grabbing music, there was a huge production of the show at the Picadilly Theatre in London 1989. Details of the musical and the production are elsewhere on this site.

Rabid fan of the original film as I am, it's saying a lot that I think the adaptation Brooks and Hughes have done is nothing short of miraculous.

Some plot details have been slightly changed, modern sensibilities have been kept in mind when dealing with the completely dated handling of the love story in the original, for which I'm grateful.

This musical version of "Metropolis" succeeds in a way every seriously intentioned adaptation aims to---it is a piece of art on its own, with its own integrity and life apart from the original. And yet the stylized retro-future made immortal in Fritz Lang's movie is given due respect throughout the musical, without ever being slavishly deferring to the details.

The London production was huge, as I mentioned. Too huge, as Joe Brooks told me. The show cost too much and was badly managed. As a result, "Metropolis" hasn't enjoyed the kind of success that other modern dramatic musicals have had.

Brooks is negotiating a full scale production to be done in Germany, and then plans to pave the way for a Broadway opening, a film version, tours etc.

Brooks knows that the scale of what we will be able to do at The Pentacle with "Metropolis" will be completely different than the original production. With the carefully selected use of expressionist set pieces, image projections, and a high degree of theatricality throughout, the relative smallness of the production will be made an asset and not a detriment.

Many hours of brain storming, designing, and trial and error are ahead for all of us who are involved in the staging concepts for our version of the show.

Meanwhile, Brooks has made it not easy for theatre groups to aquire the rights to his unique show. Bypassing the red tape of traditional musical publishers such as Tams Witmark, Brooks is handling the property's rights himself. He knows it isn't easy for interested theatres to even track him down to his Hollywood studio where he writes scores for contemporary movies---that's the way he wants it.

Brooks is allowing only three amateur groups a year to present "Metropolis." From his perspective they are all trial productions.

Like any writer, he is interested in tweaking and honing his work in preparation for the show's re-entry into the professional theatre world, and that's what he's doing with this handful of carefully chosen productions throughout the country.

It was a matter of convincing Mr. Brooks that The Pentacle Theatre was a good organization to entrust his work with.

I did manage to convince him, and now he has taken a personal interest in the project---planning on being with us here in Salem at the show's auditions as well as opening night.

Throughout production, he wants to work with me directly on the show's score that he composed. Written for synthesizers and brass, our production will be completely performed on synthesizers. That's something I have done a number of times now with several musicals, but the thick pop sound needed for "Metropolis" will call for the most complex and time consuming work I have ever done for a theatre score. I'll love every minute of it.

It's all in one package: Source material which has been under my skin for some 35 years---Music to work with by an Academy Award winning composer---and the extremely juicy challenge of adapting it all for an intimate sized theatre. I couldn't ask for more.

I must have died and gone to Metropolis Heaven.

Thank you FORRY and thank you JOSEPH!

Randy Bowser
>smacking lips< aaaah!---Metro Java---sure is tasty!
---
click the Pulsar for the list of links to all pages or use the box below

NAVIGATE THROUGH
THE WORLD OF
'METROPOLIS'


---