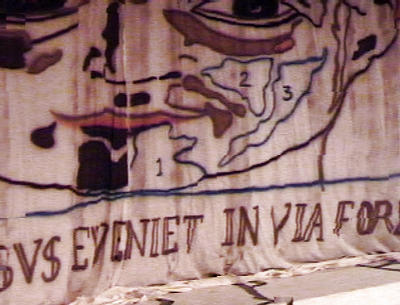 The Statesman Journal
By Angela Yeager
Director Randy Bowser is adding new twists in the set and costumes
Since he was a theatre student at the University of Oregon in the 1970's, Randy Bowser has wanted to direct a production of "A Funny Thing Happened On The Way To The Forum."
Thiry years later, he is finally getting his opportunity to share his vision of the farcical musical, which begins its run tonight at the Pentacle Theatre.
Bowser, who last directed the hugely successful "HAiR" at the Pentacle, is taking on another ambitious musical production--this one set in ancient Rome.
"Forum" follows a conniving slave named Pseudolus who agrees to help his young master meet his dream girl in exchange for his freedom. To accomplish this goal, Pseudolus has to pit various characters against each in a mad scramble to be released from slavery.
The musical is a joke on Roman history and a nod to more modern burlesque comedies, made popular by the likes of the Marx Brothers. (NOTE: the following phrase is a misunderstanding of what I said) It features few costume changes and little dancing, and Pentacle's version has 18 cast members. (NOTE: I was talking about "Forum's" relatively modest demands as compared to the typical lavish Broadway show.)
"It can fit smaller theatres really well," Bowser said. "I think that's one reason so many people do it."
For years, Bowser said he has wanted to direct "Forum" but kept getting sidelined by other projects. The musical is particularly dear to him because he won an award for his portrayal of Pseudolus in college.
The role, which was made famous by Zero Mostel on Broadway and most recently by Nathan Lane ("The Birdcage"), is being played by David Cristobal, who has been seen in Pentacle productions of "Cabaret" and "Of Mice and Men." Tom Ulmer (Pentacle's "The Fantasticks") will play the role of Hysterium, the sidekick to Pseudolus.
"I really admire how well it's written," Bowser said. "It seems to be breezy, but they spent years crafting it. A lot of people think it's one of the funniest musical comedies ever written."
Because "Forum" has been produced many times--for Broadway and film--Bowser said he wanted to make his version unique. So he scrapped the traditional brick red set used in other productions in exchange for a two-dimensional, cartoonish look.
And the costumes? Let's just say they are far removed from the typical Roman togas.
"I wanted an international look to them, so there is a Persian girl, an African girl who just has this wild costume," Bowser said.
"Nobody has ever seen these characters like this before."
---