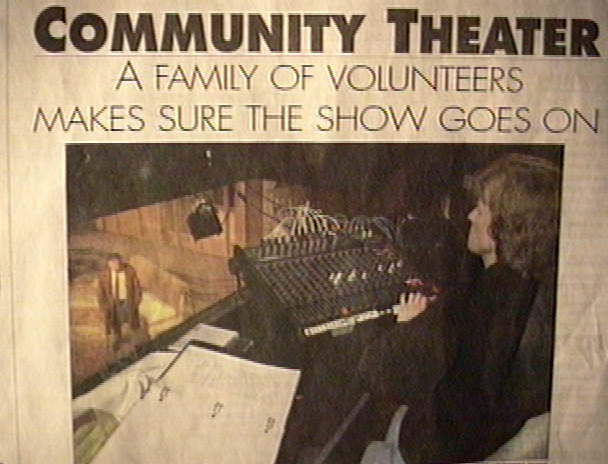 SOUND CHECK: Sound Technician Debbie Aydelott monitors a rehearsal of the play "Communicating Doors"on Thursday at Pentacle Theatre.
---
By Ron Cowan--The Statesman Journal, Sunday January 21, 2001
---
Community theatre.
That's the place to play detectives and spies, heroes and heroines, kings and queens and murderers and villains.
Then again, it's also the place to clean toilets, sweep floors, collect tickets, pour coffee or wine, hang lights and apply makeup.
One of the most labor-intensive and financially unrewarding jobs is working at your local theatre, including Salem's Pentacle Theatre.
Then again, it's not really about money or perhaps even ego.
"The thing is I love it, we all love it," said Lori Van Dreal, appearing in Pentacle's latest play, "Communicating Doors."
"That's why I'm here."
The Alan Ayckbourne play, which opens Friday, has a cast of six, but that's just the tip of theatre iceberg.
Most nights, 23 to 25 people work the show, but as many as 10 more people can become involved in tasks as diverse as ushering, taking tickets, building sets and sewing costumes.
With eight plays a yeare, that provides plenty of work at this 46 year old organization.
"This organization runs on a team of volunteers," Pentacle general manager Lee Ann Reed said.
And Pentacle, like many theatres, is more like an extended family, a network of relationships, but also a family willing to take on new members.
Any comparison to a business would be misplaced.
"No matter what show I do, I become a part of an intimate family for a period of time," says Nancy Moen, a volunteer at Pentacle for 15 years.
She is a former board member and current play reading committee chairperson.
Dean Bartell, active at Pentacle since 1983, started in the most common way, as an actor.
"I came in cold to an audition and got cast," he said.
Since then, he has mastered such technical skills as hanging lights, which he did for "Communicating Doors," where he also is an actor.
He also served on the Pentacle board, two years as president, and counts among his accomplishments getting a theatre sign at the entrance on the Salem-Dallas Highway.
"I used it as kind of a diversion from day-to-day life," he said. "It's just a nice outlet."
Although acting is the most common way to become involved at the theatre, some people start at Pentacle performing other jobs, sometimes in support roles such as ushering.
Julie Harrison, the volunteer chair at Pentacle, keeps a database of potential volunteers, as does Reed.
"We can pull up a few hundred names," Reed said.
Volunteer forms are available at the Pentacle office, and directors are urged to bring new people in, to keep the pool large.
In addition to Reed, Pentacle has one other full-time employee, technical director Tony Zandol, who usually designs and builds sets and handles lights and sometimes sound.
But that leaves lots of volunteer jobs at this nonprofit organization.
Those include acting, seling advertising for the program, box office ticket sales, catering opening night parties, concessions, costume design and construction, hair and makeup, directing, house managing, running lights or sound during a performance, handling props, distributing posters, doing publicity, reading plays for play selection, set construction and speaking to the public about Pentacle Theatre.
There are some benefits: Ushers, for example, get free tickets to the plays. One family traidioinally volunteers on one night each performance.
And, if you don't know how to do something, somene will teach you.
"There's always an expert that can help you," said Van Dreal, who also servesin the Hospitality Guild.
"There are tons of opportunity for everybody."
Reed said jobs include such unskilled work as pulling weeds, cutting back blackberries and planting flowers.
Some jobs have special requirements.
Those pouring wine need an Oregon Liquor Control Commission server's license, but Pentacle does provide classes.
There also is a need for people with specialized skills, such as plumbing and electrical work.
Auditions can be daunting for a newcomer, creating a sense that Pentacle can be inhospitable to people it doesn't know, but that's a challenge faced by even an experienced performer.
Van Dreal, who has acted professionally in commercial work such as industrial films and has an agent, didn't get in immediately.
"By the third audition I was cast," she said. "First I thought maybe they don't want anybody, but I found that was not true."
Some people like to start at the top, as a director.
Reed recalls a college professor, a veteran of directing several college productions, who wanted to direct at Pentacle but was rejected.
"It's not so much you have to work your way up; you have to familiarize yourself," said Stephen Warnock, who is debuting as director with the Ayckbourne play after five years at Pentacle.
He has worked as an actor, assitant director, and stage manager.
Reed said it's important to get people who are familiar with how Pentacle works, who have contacts and knowledge within the organization to put together the talent needed for a show.
The board provides some help. There is always a board liaison to the director or in the case of a new diector, a production consultant.
Board members generally but not alwys have been involved with Pentacle.
There are nine board members, serving three year terms, with three rotating on and off the board each year. They deal with administrative tasks such as long-range planning, picking plays, and choosing directors.
Jobs at Pentacle may turn out to be more demanding than they seem, particularly for actors.
---
Click on our logo to reach the theatre's site with current season, and historical information.

Click on our HAiR poster to return to our Tribal Love-Rock Musical site.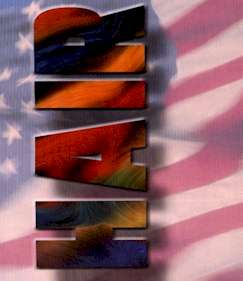 ---