Life - Tuesday, November 11, 2003

Pentacle's curtain rises on 'The Mikado'

---
William Brown (left), and Brooke Munoz (center) are escorted off stage by Tim Smith during a rehearsal of "The Mikado" at the Pentacle Theatre.
The operetta "The Mikado" will open at the Pentacle Theatre on Friday.
The Gilbert & Sullivan operetta is one of the pair's most popular.
---

RON COWAN
Statesman Journal

November 9, 2003

Pentacle Theatre will end its year on an upbeat note, with a production of Gilbert & Sullivan's "The Mikado," opening Friday, that definitely is jazzed up.

"What we've done is we've energized it," said first-time Pentacle director Heather Webber. "It's a lot more accessible.

"We have (vocal) raspberries, and people fall down."

"The Mikado" never has been particularly reverential about its subject matter: Japan seen through a Victorian England perspective with the "topsy-turvy" satiric wit and wordplay of William S. Gilbert's text.

The operetta is one of the most popular of the long line of Savoy Operas, in which Gilbert and his collaborator — composer Sir Arthur Sullivan — were energized by their imagined Japanese settings.

Although Webber, who directed "The Mikado" in college, calls this a traditional production on an elaborate Japanese set by technical director Tony Zandol, she admits this definitely is different.

"This has quite a bit of movement in it," Webber said. "It's definitely not Savoyard."

"It really emphasizes and boosts the comic aspects of it," said Larry Roach, who plays the title character.

"I'm trying to make it as over the top and goofy as possible."

Webber also has altered some of the text, which is not unusual when dealing with a show that was topical at its 1885 London debut, replete with references to English personalities, said Tim Smith, who plays Ko-Ko — the guardian of the maiden Yum-Yum and the Lord High Executioner.

A good example is Ko-Ko's song, "They'll None of 'em be Missed."

"People can always find local things to put in it," Smith said, and Pentacle has obliged with some local characters.

The story line is fairly simple and delivered mostly in music, not text, in a manner more presentational than acted out.

The plot turns on the arrival of wandering minstrel Nanki-Poo (Jeremy Sloan, also the vocal director), who is in love with Yum-Yum (Brook Munoz).

Yum-Yum is to marry Ko-Ko, however.

Complicating matters is the fact that Nanki-Poo actually is the son of the Mikado and has assumed his guise to avoid marrying Katisha (Sheila Sund), an elderly lady of the court who has claimed him.

The Mikado, meanwhile, is threatening to have the Lord High Executioner's position abolished unless someone is executed. The sorrowful Nanki-Poo consents to be executed, on the understanding that he can marry Yum-Yum now and die later.

Eventually, things work out, with appropriate romantic pairings.

Gilbert & Sullivan filled their story with memorable songs and characters, much as any musical, but that doesn't mean it isn't a challenge, even to the musically savvy.

"I've done a lot of musical theater; it's my thing," said Smith, who has professional theater background and will play the title character in Pentacle's January production of "The Music Man."

"I've never done Gilbert & Sullivan. It's just so presentational and over the top.

"I can do comedy, and I do love comedy, but this is kind of a stretch for me."

That's because of the complicated, rapid-fire lyrics, Roach said.

"Even for someone who's trained, I expect it's difficult," he said.

Sloan, who has had the recorded music provided by Randy Bowser since March, has had a lot of time to work on the vocal challenges.

"The key to doing Gilbert & Sullivan is, I think, the voice quality has a lot to do with it," he said, emphasizing elucidation and diction.

"It's not language we use every day. It's important to get it out clearly."

In "The Flowers that Bloom in Spring," Ko-Ko intones of Katisha, "The flowers that bloom in the spring/ Tra la/ Have nothing to do with the case/I've got to take under my wing/Tra la/A most attractive old thing/With a caricature of a face."

Roach describes the cast as "celestial" and is enthusiastic about the quality of the voices.

"There's a lot of people here that this is their first show or they haven't done a show in a few years," Smith said.

"Relatively speaking, the cast is a lot of young people," Roach said.

Also in the cast of 21 are Jon Bridges as Pish-Tush, William Brown as Pooh-bah, Rachel Duncan as Peep-Bo and Sarah Olbrantz as Pitti-Sing.

Members of the male chorus are David James, Todd Swanson, Mike Wildt, John Roy Wilson, Lucas Hill, Vinnie Meduri and Lyndon Zaitz.

Female chorus members are Grace and Terri Swanson, Crystal Comer, Kristin Mueller and Mary Lewis.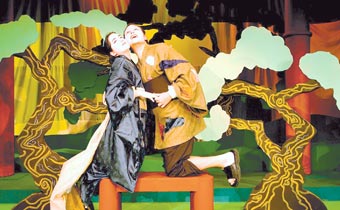 Yum Yum and Nanki Poo secretly steal a hug

---

Ron Cowan can be reached at (503) 399-6728.
---

Gilbert & Sullivan's 'The Mikado'

When: Friday through Dec. 6; 8:15 p.m. Friday and Saturday, Nov. 21-22 and 28-29 and Dec. 5-6, 2 p.m. Sunday and Nov. 23, and 7:15 p.m. Nov. 26 and 30 and Dec. 2-4

Where: Pentacle Theatre, 324 52nd Ave., Salem

Cost: $18; $19 opening night. Matinees sold out; tickets limited for some performances.

Call: (503) 485-4300

Copyright 2003 Statesman Journal, Salem, Oregon

RETURN TO HOME