---
---
---
---
TVs and VCRs Needed
---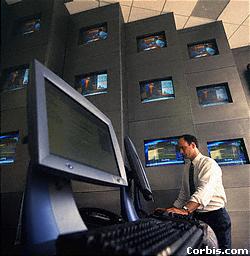 A minimum of six televisions or computer monitors of varying sizes are needed for"Metropolis."
The screens would be suspended at different angles and distances from the audience. Their cabinets would be painted black, so the sets would not be returned in the same condition in which they were donated.
John Freeman, mastermind of the city, stays in touch with his kingdom through what was called in 1920's science fiction as a "visa screen," which was essentially a telephone with visuals.
Throughout the show there are other 1984-like messages given dispassionately over the screens by robotic announcers.
These "Big Brother" moments would call for all the sets to be linked to a live camera feed.
Coupled with the need for the screens, a matching number of VCRs are also needed. This will provide opportunities for there to be moments when each of the screens are displaying their own unique visuals.
All of this equipment will be in conjunction with The Pentacle's video projector which will provide the largest screen surface.
NOTICE that because of this production concept, a backstage job description emerges. A video operator, or several, will be an integral part of the Metro stage crew.
If you have leads on used equipment, please contact Randy Bowser by clicking the Robot-Maria pin.

---
NAVIGATE THROUGH
THE WORLD OF
'METROPOLIS'