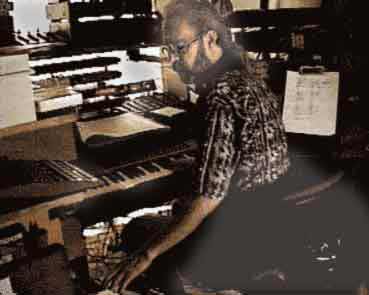 PRODUCING THE SOUND TRACK
Randy Bowser pours himself into his compact home MIDI studio to work on his adapation of the complex "Metropolis" score.
"Metropolis" is the fifth musical at The Pentacle for which Bowser has produced keyboard adaptations. Work on the MIDI tracks began in July of 2001, and now over a year later, work continues on the finishing touches to this massive pop-rock score.
Frank Fullerton adds intricate guitar patterns to the Metropolis virtual orchestra.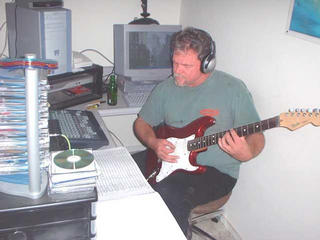 There are many steps to producing the show's sound track. Fullerton uses sophisticated software on his computer to digitally record both electric and acoustic guitar on tracks parallel to digital copies of Bowser's keyboard work. The final blend of keyboards, drums, guitars, and sound effects is also accomplished on Fullerton's computer in his FULLERTONE STUDIO.
Always a complicated task, creating a "virtual orchestra" for the casts to sing with, the "Metropolis" project has the added dimension of having JOSEPH BROOKS, the musical's Academy Award winning composer working directly with Bowser as the sound track is produced.
This staging of the show has a new script and new songs, which have been passed on from Brooks to Bowser in several ways: There are some sketched-in arrangements in music manuscript form, some are not on paper but recorded on simple "piano-vocal" demos, and some musical ideas have even been played over the phone for Bowser to work into this new adaptation of the score.
Daily emails and phone calls have kept Brooks and Bowser in constant contact throughout the process of making The Pentacle's production of "Metropolis" as a showcase premiere for the new version of the musical.
Brooks was in Salem on June 5th and 6th to see The Pentacle, confer in person with Bowser, to meet Pentacle volunteers, and be interviewed by Ron Cowan of The Statesman Journal.
The interview and photo can be seen HERE.
Everyone who either works on the show or comes to see it will benefit greatly from the direct involvement of the show's creator.
The Pentacle is very fortunate to have been given this opportunity, unique in the theatre's 47 year history.
When "Metropolis" is on Broadway in the next couple years, Salem, Oregon will have been the venue where the show was re-born and launched towards its deserving New York home.
---
NAVIGATE THROUGH
THE WORLD OF
'METROPOLIS'