SIMON BENNETT
Graphics collaborator
Having Simon join the Metro staff is a sterling example of how miraculous the Internet can be. He discovered this growing "Metropolis" site while doing his periodic search for information on his favorite musical--"Metropolis!"
He is an extremely accomplished painter, as can be seen here in his work based on the original London production of "Metro."
He has designed posters, sets, and costumes for theatre in England, and is now enthusiastically a collaborator with The Pentacle via the Internet!
From England to Oregon--our production will benefit greatly from Simon's contributions.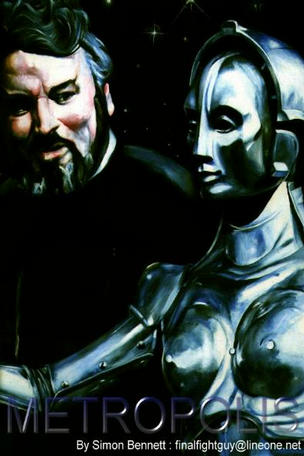 GERI BROST
Co-Choreographer/Production Assistant
Veteran of many years in theatre, Geri was most recently seen at Pentacle Theatre in "Joseph's Amazing..." and debuted at Pentacle in "HAiR" in 2000. Her years of musical theatre experience are benefiting "Metropolis" enormously.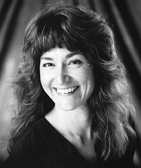 LISA DeCINA
Co-Choreographer
Lisa choregraphed "Pirates of Penzance" and "HAiR" at Pentacle Theatre, as well as other shows in Salem. A triple threat actor, dancer, choreographer, we are very fortunate to have her on the Metro team.
KATE DALY (no picture)
Poster design/Production Assistant
Formly of the Mid-Valley Arts Council, Kate is one of Pentacle's newest volunteer, enthusiastically taking on the task of designing the Metro poster, and making herself useful in many ways at rehearsals. Hooray for Kate and all newcomers who jump in so whole-heartedly!
RAEME ELLIS (no picture)

Assistant Stage Manager/Production Assitant

Her debut at Pentacle was as the female lead in "I Hate Hamlet" directed by "Metropolis" director, Randy Bowser. A thoroughly professional, hard working, happy spirited young woman, Raeme is busy helping to keep the Metro Train on track.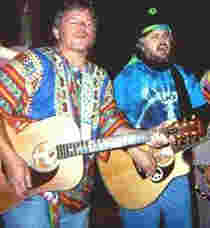 FRANK FULLERTON
Guitarist and Sound Engineer
The talented guitarist from "HAiR" and "Little Shop of Horrors" at The Pentacle will be adding guitar tracks to the Metropolis soundscape, as well as helping out in the final sound design.
Here he is on the left, with buddy bass player, Vic Lund, jamming on the theatre deck before a performance of "HAiR."
DENIS LAFERTY
Creative Consultant and Painter
Cartoonist, air brush artist and all around creative guy who has created amazing props for The Pentacle, including the large head of President Johnson shown here in a scene from "HAiR."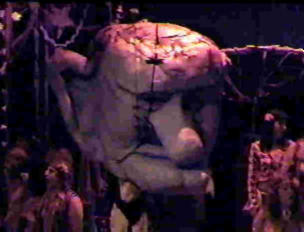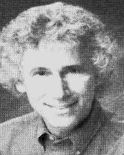 SCOTT REICHLIN
Vocal Director
A member of the highly regarded Willamette Masters Chorus, and alumnae of The Cornell Savoyards Gilbert and Sullivan group at Cornell University, this will be Scott's third Pentacle project. Already this year he played Sir Andrew in "Twelfth Night" and last year was a "Protean" in "A Funny Thing Happened..." for which he was also the Vocal Director.
KORIN REIDSBERGER
Property Mistress
Pentacle volunteerism in action! "Metropolis" is Korin's first show. After seeing the recent Pentacle production, "Breaking Legs", she decided she just had to get back into theatre, an activity she has loved in the past. A happy coincidence is that Korin's parents were good friends with director Randy Bowser thirty years ago, when they were all idealistic young theatre majors together at the University of Oregon!
LARRY ROACH
Assistant Director
A long-time Pentacle veteran, Larry is one of the most recognized and admired actors in Salem. He has begun to branch into directing, for which Salem should be grateful. "Metropolis" is benefiting greatly from his insight and good energy as Assistant Director.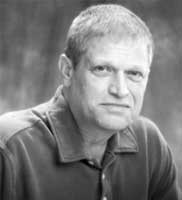 Super talented actor, director and Stage Manager, Erika recently played Viola in "Twelfth Night" at The Pentacle, where she has also been featured in "The Nerd" "HAIR" and "The Dresser" and was Assistant Director for "The Importance of Being Earnest."

At Salem's Elsinore Theatre, she was the director of an innovative production of "Hamlet" which utilized the theatre's atmospheric architecture as the play's setting.

The running of "Metropolis" could not be in more capable hands.
ERIKA SANDERS
Stage Manager/Production Assistant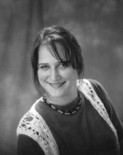 JEFF SANDERS
Make-up designer
One of Salem's most talented performers, Jeff is an excellent example of the kind of volunteerism that makes a community theatre like Pentacle work. He recently shared the spotlight with his wife Erika in "Same Time Next Year" at Pentacle, he is running lights for the theatre's production of "Equus", and will be in charge of the theatrical make-up design for Metropolis--as well making a cameo appearance in the walk-on role as the sadistic guard. Bravo for Jeff and the handful of people who donate their time so generously to make Pentacle Theatre work.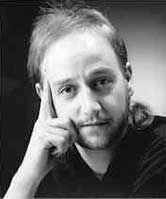 SUSAN SCHOAPS
Costume Designer
The multi-talented costume designer, actor, singer, dancer, director, is helming the task of designing costumes for the Metropolis Minions with bold concepts based on the original film as well as completely new visions which dance from her imaginative mind.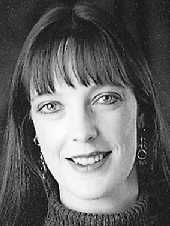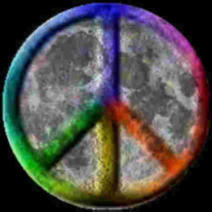 JIM WILSON
Projections Director
Versatile, dedicated volunteer who provided "HAiR" with a continuous projected image environment, as in the sample seen here.
Jim will be guiding the complicated projections needed for this multi-media production.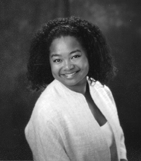 CARRIE WOOD
Co-Choreographer
Carrie debuted at Pentacle in "HAiR" in 2000,
and choreographed "A Funny Thing..." in 2001.
Her expertise in dance is lending "Metropolis"
a visually explosive feel to the staging.
TONY ZANDOL
Technical Director
The heart and soul of every Pentacle Theatre's artistic design, Tony finds "Metropolis" a dream project, and for one thing, inSISts that he be in charge of creating the Robot!
Here is a Victorian false proscenium, with moving ocean waves and bouncing pirate ship created by Tony for "The Pirates of Penzance."