Help build METROPOLIS!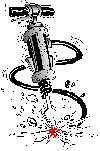 With the production opening in the second half of 2002, it may seem a long time before work needs to start on "Metropolis" at The Pentacle.
But that is incorrect.
Work HAS already started.
This is the single most complex show ever done at The Pentacle, surpassing "HAiR" and "The Mystery of Edwin Drood" in its need for many months of pre-production work.
Director Randy Bowser has begun the research, as indicated on this detailed website. Soon, he will be arranging the show's score with the largest array of synthesizers he's ever used for a theatre production. That music project will take approximately a year to do full theatre shaking justice to Academy Award winning Joseph Brook's score.
But there are MANY creative projects which people may begin work on ASAP. After all, an entire mega-Metropolis has to be created!
Email director
Randy Bowser

click the Robot Maria pin to send for information about becoming a Metropolitan

Click HERE to see the growing Metro staff list!
help man the Metropolis controls!
JOIN THE METROPOLIS TEAM NOW!
This is not an exhaustive list, but this is to give you an idea of the kind of collaborative volunteering needed to build Metropolis:
Prop designing and building
Sound designing
Brainstorming on set design concepts
Graphic designing
Lighting concepts
Costume designing
And long before auditions next year, the following team must be gathered:
Choreographer
Assistant Director
Stage Manager
Lighting Technician
Sound Technician
Follow Spot operators
Backstage crew
Production Assistants
Randy Bowser
(503) 371-3910
click the original 1926 poster below for complete info on the musical