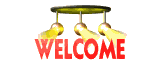 at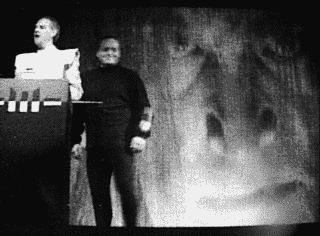 Freeman and Jeremiah threaten Groat on the visa-screen

CLICK ABOVE FOR FULL CAST LIST AND PHOTOS
(TIM SMITH as Freeman, and WILLIAM McCLENATHAN as Jeremiah and Groat)
CALL OUR TICKET OFFICE 503-485-4300
AND ORDER TICKETS NOW
Click for show dates
as of Nov. 25, all shows sold out except
tickets still available for THANKSGIVING!! after dinner, come to Pentacle Theatre
for the best entertainment in Salem!
EXTRA SHOW ADDED ON TUESDAY DEC. 3
CALL THE TICKET OFFICE NOW!
NEW!

Rave review
in The Statesman Journal
NEW!
Newspaper interview
with director Randy Bowser
NEW!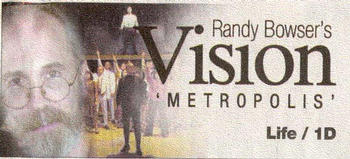 Newspaper preview article with photos
IMAGES FROM FILM AND POP CULTURE IMAGES and METRO STAFF UPDATED AUGUST 17, 2002
PRESS RELEASE--Oct. 9, 2002
this site
is a potpourri of images and text
about the production
in Salem, Oregon
of the musical by JOSEPH BROOKS and DUSTY HUGHES
based on Fritz Lang's classic silent movie
MEET THE SHOW'S COMPOSER
JOE BROOKS
BY CLICKING HIS NAME

CLICK HERE for an update on info on BROOKS' collaboration with director
Randy Bowser
and progress on the show's musical sound track with Bowser at the keyboards and FRANK FULLERTON on guitar up-dated October 3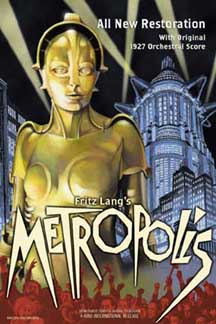 poster for the new restoration of the classic film

Ron Cowan's interview with Joe Brooks and more METROPOLIS news updates
EXCITING METROPOLIS NEWS!
The Definitive New Restoration
of the classic film IS PLAYING A LIMITED ENGAGEMENT IN THE STATES (see poster above)
CLICK THE MIKE KALUTA ILLUSTRATION BELOW FOR FULL INFO