updated 2/20/04
The information below was previous to Pentacle Theatre's™ decision to not allow release of the five month project.
For an attempt to explain the fiasco, go HERE, and for the collection of letters about the CD which show how convoluted the whole project became, full of contradicitons, lies, and even threats, please go HERE
---

MORE INFO AT BOTTOM OF PAGE *(see footnotes at bottom of the page)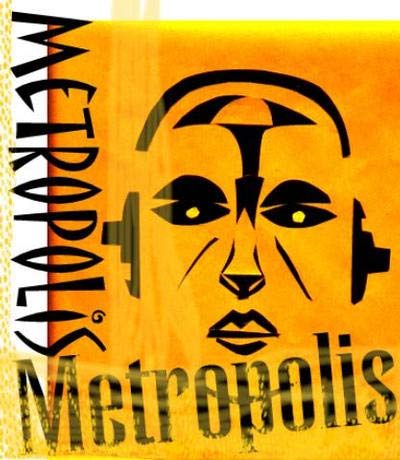 art work for the cast album
by cast member MELISSA TURNER

---
This cast recording has been made possible only by the generosity of Joe Brooks and his company, Creative Theatre Productions.
It is a very rare event when a community theatre is allowed to record a copyrighted work, and a unique one in Pentacle Theatre's™ 50 year history.
The "METROPOLIS" cast album is being printed in a limited edition of only 300 units.
The $20 sets include all of the show's music on TWO CDs.
The album will be on sale in Pentacle Theatre's lobby during the remainder of the 2003 season.
Send an EMAIL for more information.
Net profits from sale of the CD go to Pentacle Theatre's™ Capital Campaign fund-raising drive.
---
7/03/03 update
* The above information was posted when the CD was to be released earlier in the year.
Pentacle Theatre's™ governing board of directors subsquently decided that they did not have enough input in the development of the project. They also became concerned over the contract generously offered by Joe Brooks, and over the supposedly "dangerous precedent" the project would set.
Most surprisingly, they demonstrated an inexplicable lack of understanding about how huge and popular a success "Metropolis" was. They lost faith in the selling potential for the CD and predicted they would be at financial risk to produce the CD copies which had previously been promised to the show's cast and to the Salem public through several prominent newspaper articles.
At the time of this writing, director Randy Bowser still has hopes of the project's completion. Without the release of the CD, the theatre obviously faces devastatingly bad PR and loss of confidence from its faithful volunteers.
---
8/28/03 update
* The Board has now, for the second time, decided that the CD will never be released.
OUTSIDE FUNDING was secured, so the theatre would not risk a dime on the project.
Reports by me on this website about the Board's 7 months of wrangling on the issue were deemed an inapropriate sharng of information, and in reaction, they finally killed the project.
---
8/30/03 update

* The officially filed reason for not releasing the CD is stated in a certified letter sent to director Randy Bowser. In it, the Board states they could not assume the financial risk of possible legal action against the theatre or the Metro cast following the release of the CD.

That is in direct contradiction to notice given Bowser the day before which stated that the project would have been released if the Board had not become offended by the supposedly "attacking" comments about the Board posted on this site.

Until the precise nature of a specific legal threat is announced, it remains the opinion of Bowser that this is a manufactured smokescreen "reason" fabricated by the Board to give the appearance of legitimacy to their actions.

More links to pages about the CD on
METROPOLIS HOME PAGE
---
FIRST NEWS COVERAGE ON CD
---
9/25 update---as stated at the top of this page, the newest information on the CD is to be found HERE

NAVIGATE THROUGH
THE WORLD OF
'METROPOLIS'