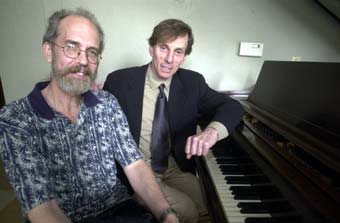 photo by FRANCHESCA PEREZ / Statesman Journal
Randy Bowser (left) and Joe Brooks sit at the piano at J. James restaurant in Salem. Brooks is the composer/lyricist of "Metropolis," which will be playing at the Pentacle Theatre in November with Bowser directing.
Sunday, June 9, 2002
Pentacle to do play revision

"Metropolis" creator Joe Brooks is helping director Randy Bowser with a new version of the musical.
---
RON COWAN Statesman Journal
---
Pentacle Theatre director Randy Bowser is inventive, persistent and persuasive.
Persuasive enough to bend the theatrical road from London to New York to include a detour to Salem and Pentacle Theatre.
"Metropolis," a musical first produced in London in 1989, is being produced this November at Pentacle Theatre in a new version of composer Joe Brooks' musical, which is expected to finally bow on Broadway next year.
"He hunted me," said Brooks, who was in Salem last week to meet Bowser in person and to see Pentacle.
"He's very, very skilled," Brooks said of Bowser. "What's happened now, the road to Broadway seems to be coming through Salem, which is quite a feat."
Not only has Brooks been collaborating with Bowser, largely through e-mail and over the phone, Brooks plans to return for the Aug. 17 auditions and the Nov. 15 opening, with potential Broadway producers in his wake.
The reworked show has 30 percent new material, in contrast to the original show, which has had a dozen productions by regional theaters and high schools in the United States.
Brooks is keen as well on the possibility of finding young local talent for his Broadway production.
"In case he doesn't find anyone he likes, I'll find someone I like for myself," he said of Bowser's auditions.
Particularly of interest are the key roles of Maria and Steven, who could be played by teen-agers.
The fact that Brooks found a connection to Salem is significant. He is a writer, director, producer and composer who has won the Golden Globe, Oscar and Grammy awards, as well as 21 Clios (Oscars for advertising).
Brooks is best known for writing, producing and directing the independent film, "You Light Up My Life," along with its hit song, and has written music and lyrics for films such as "The Lords of Flatbush," "The Garden of the Finzi-Continis" and "Marjoe," not to mention some 300 advertising campaigns.
This is not the first time Bowser's persistence has landed unprecedented collaborations.
Broadway producer Michael Butler and co-writer James Rado, both of "Hair" fame, worked with Bowser on his production of their classic musical in 2000, even attending the opening.
Bowser has used the Internet in his pursuit and spent more than a year just trying to figure out how to contact Brooks, who holds the rights to his show personally; he finally reached Brooks by phone in Los Angeles.
"Obviously, he's somebody who's quite out of the ordinary," said Brooks.
"The fact is I'm here. When I got off the plane, I said, 'Where am I?'"
For Brooks, coming to Salem and working with Bowser is a matter of giving back to the theater community. He also was impressed with the fact that Bowser is not only a director but also a composer and arranger.
There also is the advantage of trying out the show, showcasing it for Broadway producers and possibly finding some talent.
"For 'You Light Up My Life' it took me two months to find the right person for the film," said Brooks. "That became the most successful independent film that ever happened."
Auditions for 'Metropolis'
When: 1 to 5 p.m. Aug. 17. Production dates are Nov. 15-Dec. 7.
Where: Pentacle Theatre, 324 52nd Ave. NW, Salem. Call: (503) 371-3910 or e-mail randybowser@ webtv.net.
Special requirements: Prepare a pop song or a song from the musical (CDs available at www.amazon.com).
If possible, send a picture or tape to the Pentacle office, P.O. Box 186, Salem OR 97308.
"Metropolis," which is based on German director Fritz Lang's silent film, is the story of a future mankind, forced to work underground on huge machines to support the elitists who live above ground in a world devoid of other energy sources.
Steven (Freder in the movie), from the elitist upper class, falls in love with Maria, the spiritual leader of the workers, and helps her foil an effort to rob the workers of hope through the use of a false, robotic Maria.
Brooks said he got the idea while living in England. Brooks, who was composer, co-lyricist and co-producer of the London show, spent three years on the original adaptation, relying on the film and the source book.
In Brooks's version, even more so in the revision, the love story has become more prominent.
The show has been called a rock opera, although it has different musical styles, because it tells its story largely through music and singing, not spoken dialogue.
Although the show was a hit in its 10-month run in England, Brooks' inability to get a larger theater limited impact, and his personal interest was diverted by a custody battle over his son and other family interests.
"The one thing I wanted to do was get this show exactly right," he said of the revision. "I didn't think this would ever be heard here." Bowser convinced him to release the new material for Salem, however.
Brooks won't be on hand much: He's in the process of moving from Los Angeles to New York and plans to produce and direct a new movie he has written in the meantime.
Bowser said he is a longtime fan of "Metropolis," the film, and did a radio play version of it as a child.
"It's a brilliant adaptation that expands the love story," he said of the musical. "It's really a gripping thing; it's become a theater piece."
Brooks said the religious, spiritual element is a strong theme of his version.
The production will have a cast of 25, and Brooks is enthused about it playing in an intimate space such as Pentacle, which will make the emotions up close and personal.
Bowser plans to take advantage of the space with a stark, expressionistic production, also with Brooks's approval.
"It's really about the boy and the girl, this kind of story," said Brooks.
This will be the first time Pentacle has done a musical which was not a revival of a New York production, said Bowser.
---
Copyright 2002 Statesman Journal, Salem, Oregon
---
NAVIGATE THROUGH
THE WORLD OF
'METROPOLIS'


---