---
---
---
---
Why "Metropolis" is unique for The Pentacle
---
The exciting challenge of doing an "unknown" show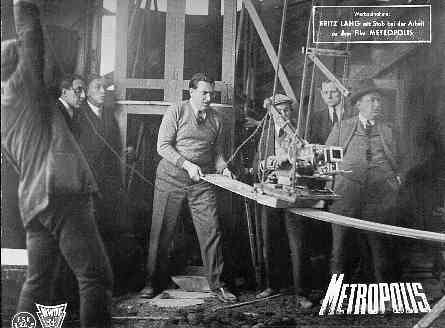 Fritz Lang behind a sliding camera on the "Metropolis" set in 1926
---
A Challenge For You
---

The vast majority of plays done at The Pentacle over its 47 year history have been revivals of Broadway productions.

Musicals have always been chosen from the list of Broadway hits which have various degrees of familiarity due to their history, film versions, and original cast recordings.

"Metropolis" was produced in London, 1989, but there has not been a professional American production.

The Pentacle production will be one of only a handful which Academy Award winning composer Joseph Brooks has hand picked to showcase his exciting musical.

So while not having the "advantage" of already being known, "Metropolis" gives those of us working on it the rare opportunity to know more what it's like to be part of a new musical---like the original companies on Broadway who have been privileged to do the first "Cabaret," the first "Hair."

The audience will be there at The Pentacle. Our musicals always have packed houses. And any doubts the patrons might arrive with about seeing something they haven't heard of will be swept away when they discover for themselves the excitement of NOT being prepared, and NOT having preconceived expectations.

No matter how well we mount productions of "A Funny Thing Happened..." "Joseph" or any musical you care to name, there is a blunted aspect to the audience's involvement, because they already have some knowledge of the show and tend to be more complacent in their attention. There is always an awareness in their minds that they remember so-and-so in the movie version, or they remember a professional production they saw before, or the recorded version is one of their favorite thing to listen to. It makes their experience of our productions once-removed. There is no possibility of them having a spontaneous and truly first-time reaction to what they see.

"Metropolis," being based on a classic film which keeps growing in cult status, does benefit from that connection. But there's a huge difference between a silent movie and a modern dramatic musical. People who know the movie will be able to see that the musical is based on Fritz Lang's brilliant film, but will immediately become aware that the two pieces are so different that they will be unable to predict how their evening with the musical will enfold.

Doing "Metropolis" at The Pentacle is not "business as usual."

As I have tried to explain here, we all have a chance to be part of something fresh and new. It's the kind of experience professional theatre people take for granted when they sign up for new works, but which those of us in the amateur realm very seldom have the chance to experience.

There are costumes to be designed, special effects to be figured out--beat the doors down to become part of what will truly be a once-in-a-lifetime experience.

Theatre is a hobby of yours. Theatre is a pastime you enjoy. Challenge yourself. For the duration of this project, make theatre your top priority---treat yourself as a professional---so that together we can make "Metropolis" something that we and Salem will never forget.

The project is so large and challenging, that it must have the 100% committed determination of our entire theatre group to make it happen, starting with you.

Contact the show's director, Randy Bowser, by clicking the Robot-Maria pin.

---
NAVIGATE THROUGH
THE WORLD OF
'METROPOLIS'