Plot Outline of
"Dorian-The Remarkable Mister Gray"
adapted for the stage by Randy Bowser
based on "The Picture of Dorian Gray" by Oscar Wilde
---
ACT ONE
---

"Prelude." It's summer time, 1880, in London. Street vendors, "street walkers" and the young Dorian Gray are enjoying the uncommonly warm weather.

Elsewhere, the popular painter, Basil Hallward, fusses and frets over his current work-in-progress, a life size portrait of Gray, ("Every Picture Painted") while his cynical, witty friend, Lord Henry Wotton, watches him with amusement.



When the painter's young subject finally arrives, Henry is soon amusing himself by filling Dorian's head with his philosophy of "Self Development."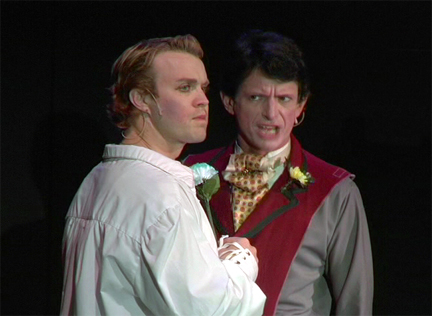 Lost in thought, Dorian becomes acutely aware of his inner restlessness ("Somewhere In-between").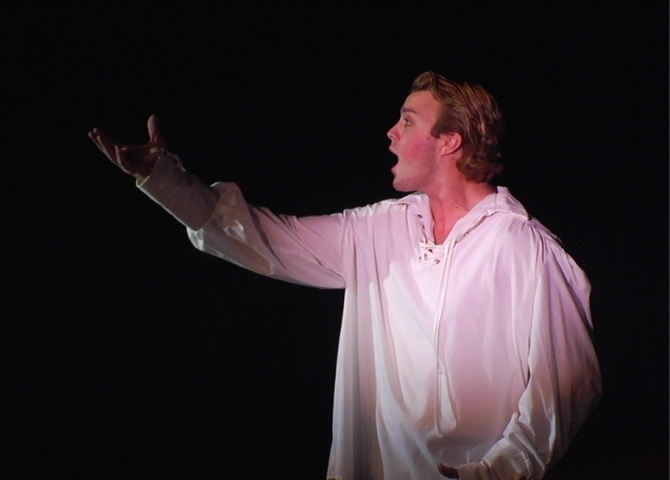 When the finished portrait is finally shown to him, he realizes that even at his young age of 22, he already feels the press of time and is dismayed he'll grow old before experiencing all he longs for. He expresses the childish wish that his portrait will grow old while he remains ever the same age ("Dorian's Prayer"). Unhappy that he has unwittingly upset Dorian, Basil almost destroys the new painting, but Dorian stops him in time.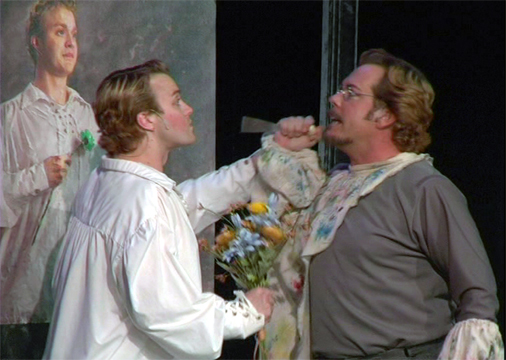 Henry, delighted to have a new protegé, whisks Dorian off to an exclusive party ("Fantastic Eyes") where Lily and her prostitutes, seen earlier in the street, spirit the enthralled young man away.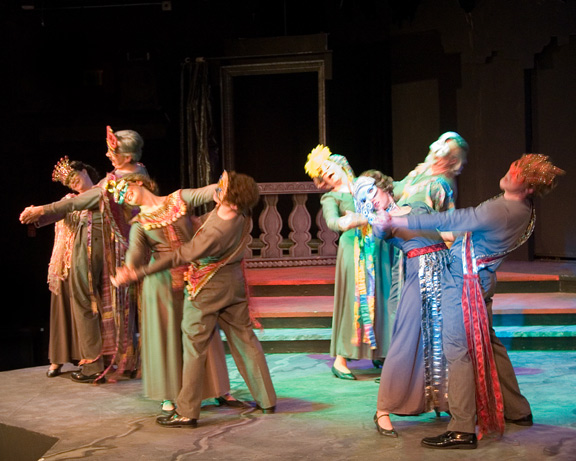 Life becomes full of adventure, and only a month later, Dorian announces to his constant companion, Henry, that in the dangerous East End of London, he has the met the girl of his dreams. Sibyl Vane is an actress, and according to Dorian, "A genius." With his characteristic flare for the outrageous, Henry replies that "...no woman is a genius. They never have anything to say, but say it so charmingly."



We meet the Vane family as if they are characters in a small, gas-lit Music Hall. Sibyl, madly in love with Dorian, sees the future for her family as one so blazing and glorious that it is as if they are going "Into The Sun."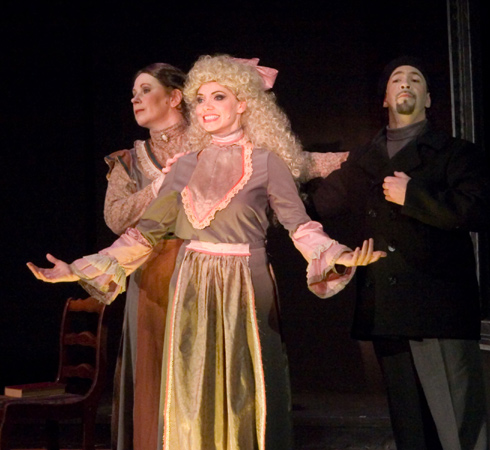 The only cloud blocking Sibyl's sunshine is that her brother, James, threatens to kill Dorian if he mistreats her.

It's "Non Nonny Ho" and Dorian, Henry and Basil are all in attendance to see Sibyl in "Romeo and Juliet."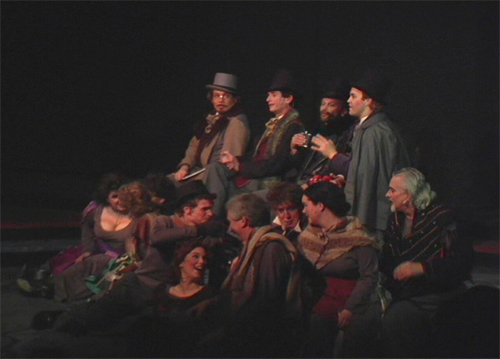 The poor girl is so distracted by Dorian's presence in the audience, that she makes a shambles of her performance.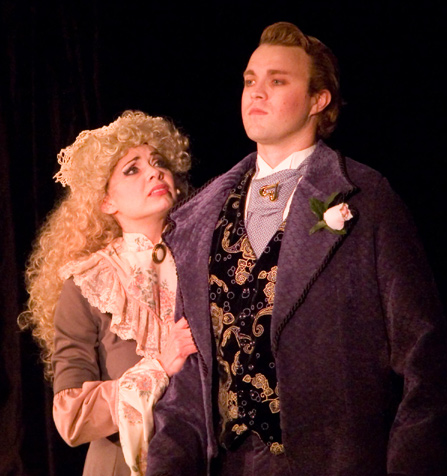 Left alone after the show, Sibyl says to Dorian, "I Heard the Laughter" but that she didn't care. Acting is no longer real for her, now that she knows true love. Dorian is horrified, accusing the girl of killing his love for her, now that she has abandoned her talent which attracted him.



Denizens of the night threateningly accost Dorian on his journey home ("La La London") and once he steps back into his lavishly decorated library, he is confronted with "Dorian's Dilemma."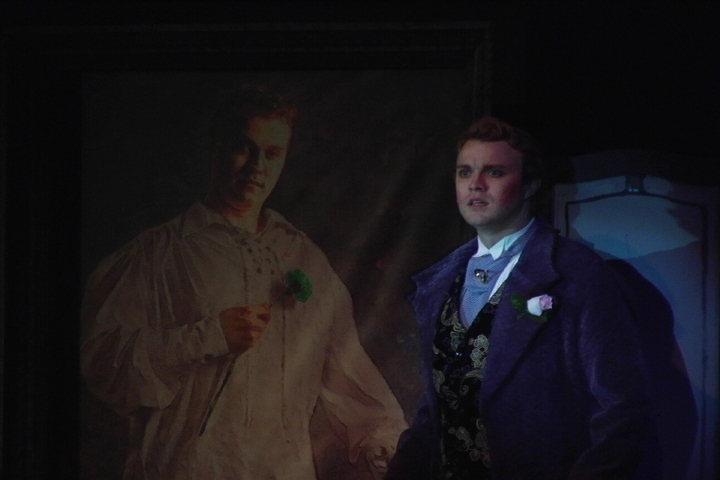 The face in the painting seems to be sneering with a new harshness. The young man, refusing to believe the inanimate portrait has actually changed, takes it to be a warning from his conscience that he has behaved dreadfully, and that he must make amends with Sibyl by proposing marriage to her.

Henry arrives the next morning with the shocking news that Sibyl has killed herself.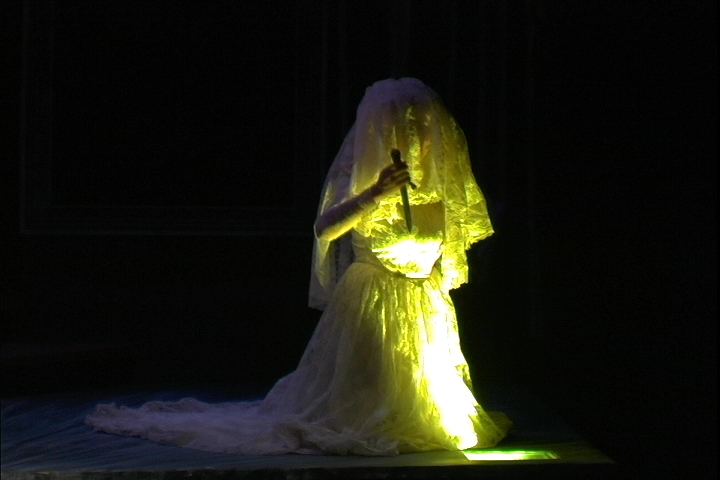 We see that in her dying moments, "Beware The Dreams," she believed that it was a fatal mistake to have had hopes of marrying Dorian. Henry seizes on Dorian's remark that the whole nightmarish circumstance seems more like a play than reality, and explains that while "It's All Very Sad," tragedies such as Sibyl's death must be seen as wonderful scenes to be savored.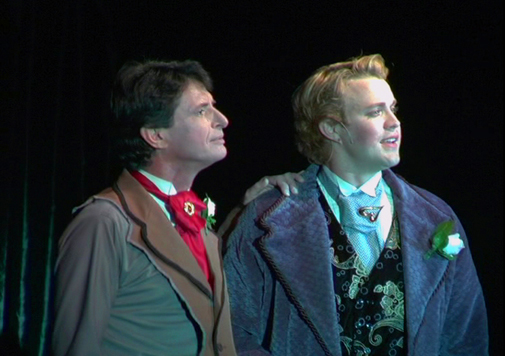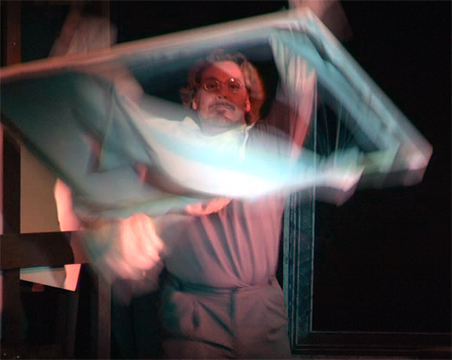 Basil's inspiration has abandoned him. His artistic imagination is "Blank" now that Dorian is no longer posing for him.






Going against his earlier decision to never share Dorian's portrait with the public, he now contacts Dorian ("Every Picture Painted"-reprise) with the desperate need to borrow the portrait for an exhibition.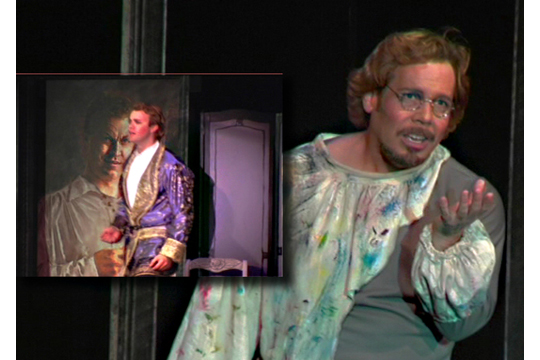 "Dorian's Decision" is to hide the painting rather than loan it, now that it's definitively clear that the portrait is indeed changing and taking on the age and sins of the subject, and that Dorian himself has miraculously been granted the gift of immortality.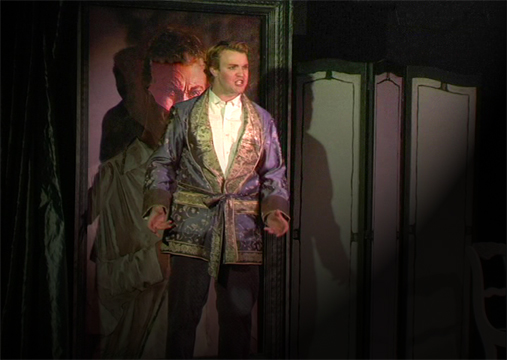 Feeling super human, Dorian celebrates his freedom from mortality with wild abandon in "The Black Cat Ballet" at Lily's dockside den of iniquity.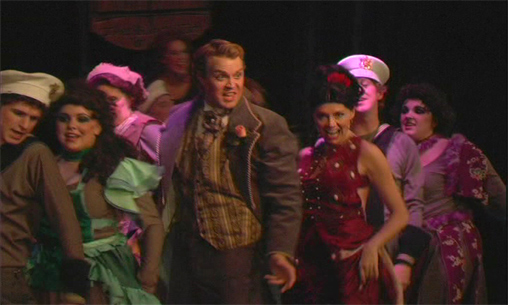 CLICK FOR ACT TWO