Home/ About The Show / The Cast/ TICKET INFO/ News Coverage/ About Randy Bowser/
Contact Us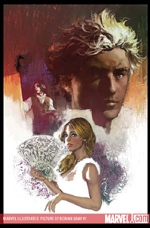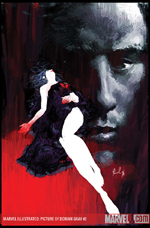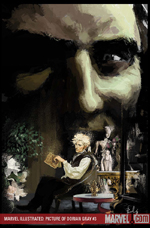 Covers for the up-coming Marvel Comics graphic novel adaptation of "The Picture of Dorian Gray"

---
Dorian-The Remarkable Mister Gray

Music, Lyrics and Book by Randy Bowser

Performances - April 18 through May 10, 2008
---
Help populate the world of Oscar Wilde's fin de siecle London, where the mask of Victorian mores is cracking badly, and one young man seeks to find new meaning in life - only to come face-to-face with Hell on Earth.
Stage Director – Randy Bowser
Choreographer – Sheila Sund
Vocal Director – David Hastings
Audition Dates
Pentacle Theatre announces open auditions for "Dorian" on Saturday, January 5th starting at 1:00 PM in the Pentacle Theatre lobby, 324 52nd Ave NW, Salem, Oregon. No appointment is necessary.

Audition Procedure
Fill out a one page audition form listing previous experience or attach a resume, and list the role(s) you are trying for. Make sure to put all conflict dates and times on your audition form! Preference will be given to those with fewer conflicts. Performers are encouraged to clear their calendars during the show's schedule so sufficient rehearsals can be slated with a minimum of schedule-juggling.
We will take a Polaroid Photo of you.
Prepare a portion of a song no longer than 2:00 in length from most any Sondheim show, other modern dramatic musicals such as "Jekyll and Hyde," Kurt Weill or Opera. A pianist will be provided if needed. NO A cappella singing will be accepted.
EVERYONE will also have a movement/dance audition. Sheila Sund, our Choreographer, will be adpating her dances according to the abilities of the cast. Expertise is NOT expected. Some central characters do not call for dancing, but initially everyone will work with Sheila in a short, simple dance routine designed for non-dancers. Please wear clothes and shoes appropriate for these movement auditions.
TRAINED DANCERS are also encouraged to audition. Ideally the show will incorporate a small dance team which will be featured in the chorus numbers. Singing dancers would be most ideal, but non-singing dancers will not be excluded. Those auditioning only for lead dancer positions will still be expected to prepare a brief song as per the guidelines above.
On the following day, Sunday January 6th, there may be call-backs only. We will sing from the show's score and read from the script.
Additional auditions will be scheduled as needed with rehearsals beginning on January 14th.
No parts are pre-cast; no roles are paid positions.
For vocal ranges and character descriptions please see the first page of audition information on the link above.
Either English or Cockney accents are necessary for all parts in this play.
Rehearsal Schedule
Rehearsals will be held at Pentacle's down town office and rehearsal hall at 145 Liberty St. NE, Salem Oregon.
Rehearsals will be held as many as five evenings per week starting at 6:30 pm and ending at 9:30 pm.
Costumes are supplied, in general actors supply their own shoes and own make-up.
About the Show
Award winning Pentacle Theatre has produced an original musical only one other time in its 55 year history. The special nature of this World Premiere is expected to be an especially important milestone in Pentacle's illustrious history.
Music, lyrics and adaptation of the novel are all by director Randy Bowser, a theatre veteran with over 40 years experience.