A
galaxy
has even been named after Dorian because it has a youthful appearance which belies its true age!
Countless non-musical stage adaptations have been written, including one by famous British playwright John ("Look Back In Anger") Osborne.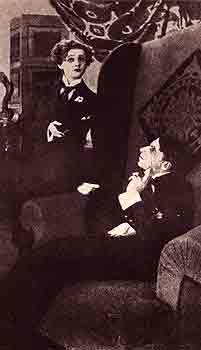 Russian "Dorian" 1915
In Russia, where my dramatic stage musical
"Dorian-The Remarkable Mister Gray"
is currently in rehearsals, a film version was shot in 1915 by
Vsevolod Meyerhold
, a major innovator in 20th Century theatre. He directed the film and also played a key character, Lord Henry Wotton. He cast a woman in the role of Dorian, vividly underlining the character's androgynous nature as Wilde originally described him, "... this young Adonis...looks as if he was made out of ivory and rose-leaves..." The film hasn't survived, but it's believed that if it had, it would be considered as important an artistic achievement as Germany's triumph of Expressionism,
"The Cabinet of Dr. Caligari."

Other silent film versions were made in Germany, England and

America.

It had taken over a decade for anyone to dare do an adaptation since all of Wilde's works were at first neglected in the wake of his tragic downfall. But once his works were dusted off, "Dorian,"

"The Importance of Being Earnest"

and many other Wilde pieces took their place of eminence in both the literary and theatrical worlds.




In 1945 MGM produced a lavish film version which featured a young Angela Lansbury in the role of the tragic Sibyl Vane. While an effective film, the director's peculiar, static approach to the central character of Dorian, played by Hurd Hatfield , is universally judged to be ineffective, making the film fall short of true classic horror film status.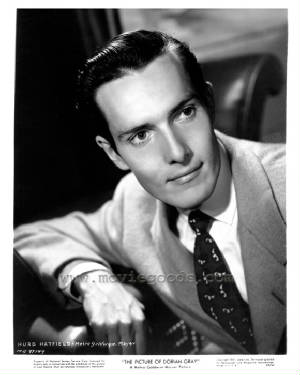 Hurd Hatfield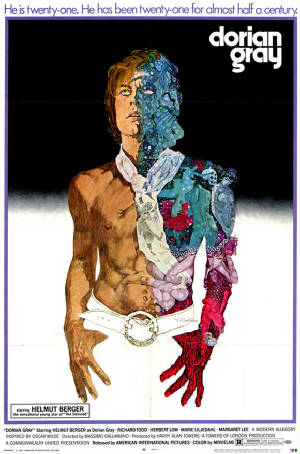 Poster for the Helmut Berger film
"Dorian" has been re-invented on screen numerous times since the 1940's.
Helmut ("The Damned") Berger
was a modern disco-loving Dorian in a version made during "the swinging '60's."
Jeremy Brett of BBC
Sherlock Holmes
fame played Dorian in a 1960's TV version, and later was Basil Hallward, the painter, in a much acclaimed
BBC production
which starred Sir John Gielgud as Lord Henry.