a simple thank you
Starting with the research period of the HAiR project at The Pentacle, and on up to the current time, I have been a participant in the internet "HAIR List."
It's an online shared-email community of fans, performers, directors---amateur and professionals alike who know that HAiR is an extremely important part of our lives.
During the two years when I have been part of this "cyber-tribe," the times have been literally countless when members have inspired me, informed me, challenged me, and kept me company. Their input was a key element to the success our production of HAiR ultimately enjoyed.
This list isn't exhaustive, but I want in particular to thank:
"Lilac Amy"
Michael Butler
Lyndsea Cochrane
Sean Courtney
Nina Dayton
Alan Duncan
Juan Ferretti
Bil Gonzalez
Walter Michael Harris
Jonathon Johnson
Ryan Johnson
Vanessa Kahn
Shaun Kelly
Thomas King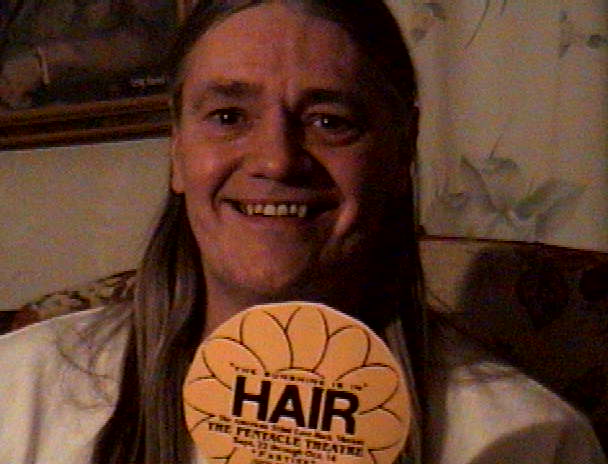 Leo Lunser--seen here with a Pentacle Theatre HAiR flyer
Robin McNamara
James Pappaconstantine
Steven Quinlan
Mary Romanek
RJ Ross
Tim Ryan
David Shaw
Laura Tyger
Joseph Tioga
Claudia Walrad
Vanda Washington
Someone not on the HAiR list who I will always remember for his generous gifts of time, consideration, and artistry is
Jim Rado
the brilliant co-creator of HAiR.
All of you have touched my life with harmony and understanding. Thank you.
---
Others who helped keep me strong while guiding this huge production are Jo Dodge, Cindy Martin, Larry Roach, and my sister Carolyn Bowser.

My love goes out from this webpage to each of you individually and collectively. How fortunate can one person be?
---
You can visit several years of the group's discussion about HAiR and the 1960's by clicking HERE

---