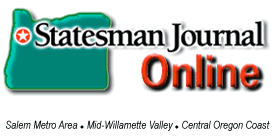 Sunday, September 24, 2000
Attention to detail is clear, though "Hair" has aged
RON COWAN
Peace, Love, freedom, and all that.
All that is in "Hair," the 1968 tribal love rock musical that opened at Salem's Pentacle Theatre on Friday in what could only be called an enthusiastic, energetic and ultimately contagious theatrical spectacle.
This isn't exactly drama, comedy, or anything else resembling conventional theatre, and that fact hasn't dimmed during more than 30 years.
This show is still raunchy, with its vulgar language and simulated sex, physically exposed even without its celebrated nude scene and still defies conventional ideas of story-telling.
Director Randy Bowser and his "Willamette Tribe" cast obviously have their hearts in this show, which is what makes it work ultimately, even though its shocks seem dated, its fashions fasse and its themes familiar.
To emphasize the event aspect, Bowser has planted his cast of 23 around the Pentacle grounds before the show, drumming, singing, dancing, and delivering protest speeches.
Once they take to the stage, "Hair" seems more than a little like a bad fashion show (bell bottoms, tie-dyed tops, shaggy vests, and head bands) set to some terrific music, courtesy of Galt MacDermot.
Gerome Ragni and James Rado's script is more a free-flowing happening than a plot, and the story wheels precariously in the first act before powerfully summoning its forces in the compelling second act of this production.
The lead characters of this band of hippies, frolicking and flaunting their lifestyle and ideas, are Claude, played with a seraphic innocence by Jeff Sanders, and Berger, the class clown as played by Don Williamson.
Claude, in general, is on an unwilling journey to the all-too-real world of the Vietnam War and is too much of this world to burn his draft card and reject the forces that will drag him to his death.
But "Hair" is more a celebration than dirge for most of its running time, and Bowser inventively puts us in the time frame, from his rear projection of the images and ideas that shaped the era to his colorful stagecraft, with such effects as a huge papier mache former President Lyndon Johnson, plentiful props and a circus-like setting with a scaffolding set.
Best of all is an ongoing sense of the tribe-like abandon that typified the era at its best.
If this production lacks any individual commanding performance --Williamson and Sanders are more members than leaders of this tribe-- it has more than its share of standout moments and some vivid musical performances, aided by a terrific backstage band led by Vic Lund.
Newcomer Reuben Sampson nails every moment and song, including the rowdy "Colored Spade"; Dawneka Patterson is the robust life of "White Boys," among other numbers; and Geri Lyne Brost, as Sheila, has an angelic voice on songs such as "Good Morning Starshine" and "Easy To Be Hard."
But this show is about the whole, not the parts, and this cast is very much a whole, particularly in the tight and dynamic second act, which brings poignancy and nightmarish imagery to the mood of celebration.
Bowser and his collaborators have done their work with passion and conviction, and if we find the '60s somewhat absurd and "Hair" an eccentric artifact, they aren't to be blamed.