STATESMAN JOURNAL Aug. 21

2000

Salem, Oregon

Original Players Attending Local "HAiR" Musical

Pentacle Theatre's version has new material from the co-author of the production

By Ron Cowan--Statesman Journal

"It's a period piece without being a museum piece."--Randy Bowser, director of The Pentacle Theatre's production of "HAIR"

-------------------------------------------------------------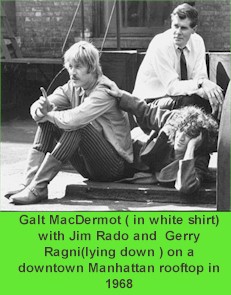 Pentacle Theatre's production of "HAiR," which opens Sept 22, will have some especially keen critics, or fans, in the audience opening night.
Michael Butler, who produced the original New York production of the hippie musical in the 1960's, and James Rado, co-author and co-star of the original productions, will be in the audience.
Director Randy Bowser also is expecting Walter Michael Harris, another original cast member, and possibly Robin McNamara, who succeeded Rado in the role of Claude in the New York production. (NOTE--this is a mis-quote regarding McNamara.) An English cast member of "HAiR" also is planning to come.
If that doesn't heighten interest for the audience, this new version of "HAiR" will feature new, unpublished material from Rado, who has been a consultant on the production with Bowser.
"It's been pretty incredible," Bowser said.
During his research on the play, Bowser contracted Butler through the Internet, striking up a relationship that led to a phone call to Rado, who became a consultant during frequent and lengthy phone conversations.
Rado rearranged lines, reworked scenes and gave Bowser other material that developed as he refined the show.
"He came up with a great way of doing what I wanted," Bowser said. "Over the course of all this time, he's given me this unique version of the script.
It turns out to be a show that's gone through a lot of tweaking lately."
Butler, who lives in Beverly Hills, Calif, and is still a producer, will arrive Sept. 21 and stay through opening weekend. His credits include work on the Broadway productions of "Lenny" and "West Side Story," among other shows, and serving as a policy adviser to then-Sen. John F. Kennedy.
Rado, who lives in Hoboken, N.J. may not arrive until opening day.
"They love to hang out afterward and meet with the cast," Bowser said.
"HAiR" was originally produced by Joseph Papp in New York in 1968 (sic) and moved to Broadway in 1969 (sic), soon becoming an international sensation with productions around the world.
Rado and the late Gerome Ragni co-wrote the book and lyrics, and the music is by Galt MacDermot.
Director Milos Forman made the musical into a movie in 1979, with John Savage, Treat Williams and Beverly D'Angel starring.
"HAiR" celebrated "The Age of Aquarius," the title of one of its hit songs, and questioned the status quo on issues such as morality, sexuality, individualism, drug use, loyalty, and sexual acceptance.
The plot (of the movie--RB) loosely follows the story of a straightlaced Midwesterner who has been drafted for Vietnam and falls in love as he falls in with a band of hippies.
The show has inspired a cult following, much like the Grateful Dead, Bowser said.
One fan from Holland plans to attend Pentacle's production.
Bowser, who has a cast of 23, is doing his best to bring his cast back in time.
Bowser has been letting his hair and beard grow and is wearing tie-dyed shirts, and a multicolored "HAiR" bus is being used to publicize the production.
"It's a period piece without being a museum piece," Bowser said.
He has been bringing in people to talk to the cast about such historical elements as the Vietnam War.
"That's the problem," he said. "It's history.
This is an eye-opener for most of the cast."
The Pentacle production will not attempt to update the show and will be set in 1968.
Lobby displays will accentuate the period, and cast members will mingle with the audience before the show.
Because there are teen-age members in the cast, Bowser has skipped one aspect of the original show: on-stage nudity.
Although tickets have been selling fast, all shows still have available seats. The production runs through Oct. 14 at Pentacle. Tickets are available through the MidValley ARts Council. Call: 370-7469.
Tickets are $16 for opening night and $15 for other nights.