The Director, Randy Bowser, is very determined to see that "HAiR" will be an unforgettable experience for cast, crew, and audience alike.

The show is a slice of theatre and social history which transcends the importance of mere nostalgia, though that is a large part of its appeal.

"HAiR" is the most avant-garde show to ever be produced on Broadway. It lives on as the perfect embodiment of an era when idealism may have brought with it an over-indulgence of the senses, but had a profound and admirable innocence in its spiritual longing.

Both the era and the musical which encapsulates it must never be gone from our memory.


CONTACT DIRECTOR RANDY BOWSER TO BE A PART OF THE LARGE TRIBE WHICH WITH LOVE AND DEDICATION WILL MAKE "HAIR" LIVE AGAIN IN OUR HEARTS.

Click on this Peace Circle to send R. Bowser your communication.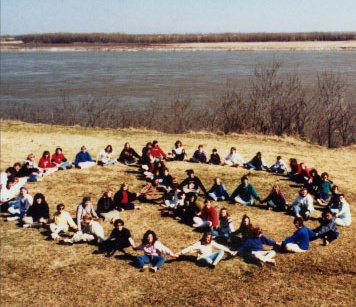 ~~MORE HELP NEEDED~~
Follow Spot Operators
Two people will be kept VERY busy PERFORMING very active follow spot plots.
Sound Operator
It's a job that calls for intuition--keeping voices and music balanced. Training will be given, and this will be one of the most rewarding jobs in the show.
Costume Assistants
Under Roxy Garrison's guidance The Tribe will be gathering and personalizing much of what they wear on stage, but there is much to do in the way of coordinating, accessorizing, as well as finding things such as Army uniforms, Police uniforms, KKK robes, American Flag capes---the show features hundreds of colorful costumes.
Image Operator
Jim Wilson is the Image Director and someone will have a great opportunity to PERFORM the split second timing of hundreds of images which are a key visual element in the show.
Set Construction
Tony Zandol and Scot Jenkins will need much assistance in putting together our huge metal sculpture and raked stage set. It will be a semi-improvisational project requiring many willing hands and creative minds.
Stage Crew
Assistant Director Jon Miho will need a good sized crew to run the complicated show with its myriad of costume changes and special on-stage effects. All crew members will be in costume and visible to the audience, often performing functions in full view much as in Kabuki theatre.
CONTACT THE DIRECTOR TO BECOME PART OF THE TRIBE!
NO EXPERIENCE IS NECESSARY!
Pick the daisy to send an e-mail now!