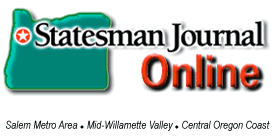 A touch of Broadway in Salem

Original Broadway producer Michael Butler and co-writer James Rado reflect on "HAiR"--the Pentacle Theatre's version, the musical's past and where they are going with it in the future.

BY RON COWAN Statesman Journal

(caption) A NEW PRODUCTION TEAM: Randy Bowser (center), director of the musical "Hair" at The Pentacle Theatre, stands with Jim Rado (right), the co-author of the book and lyrics of the musical, and Michael Butler, producer of the original Broadway production of the musical.

When producer Michael Butler went to his first "Hair," he thought the "tribal love rock musical" was a Native American show rooted in Indian traditions.

Now Butler, 73, who produced "Hair" on Broadway and came to Pentacle Theatre's production Friday night in Salem, is a member of the tribe.

"I am a hippie," he said happily. "Freedom, love and a little smoke now and then."

James Rado, who co-wrote and co-starred in the original Broadway production of this enduring theatrical event also is still caught up in the magic more than 30 years later.

"I've sort of given my life to this little baby," he said before seeing Salem's production Friday night.

With him was a new follower, Federic Roy, 25, of Montreal, who is the only non-Italian in a new Italian production of "Hair" that Rado is directing for an Oct. 16 opening in Turino, Italy, in a tour that will include a show in Rome.

"Hair" isn't dated, according to Roy, who dressed hippie-style in leather pants and a black top.

"It has survived and evolved, I think," he said.

Rado and Butler came to Salem because of the enthusiasm of director Randy Bowser, who created a stir on the Internet looking for information and suggestions, Butler said.

"I like it when directors call me, particularly at this time, when I was thinking of some new things in the script," Rado said.

He and Bowser ended up collaborating, starting in January, with Rado feeding Bowser new material that Rado is going to put in what he feels will be the definitive version of "Hair."

"'Hair' has a chance of coming back again, really being revived in America," he said. "There seems to be a lot of interest. People are talking about it.

"I want it to come back and be as exciting as it was originally."

Both Butler and Rado were excited about Bowser's show.

Midway through Pentacle's show Friday, the enthusiasm hadn't flagged.

The tall, thin Butler, who showed up in bell-bottoms and a Nehru-style jacket, was upbeat.

"I like it very much," he said. "Jim is very pleased."

Before Friday's show Rado said: "I like to see really the truth of the piece come out through the performances. I know what the impact can be.

"It has the potential of grabbing audiences."

Butler concurred: "I think it's going to be a very good show.

"I've just got a feeling about it."

Both Butler and Rado have big plans to keep "Hair" alive.

Butler plans on having Rado direct a revival of "Hair" next summer that will go on tour to 27 cities, including Portland, with the musical performed in a tent, along with a traveling show of multi-media and musical attractions, including simulated facades of Greenwich Village in New York and Haight-Ashbury in San Francisco, both hallowed hippie haunts.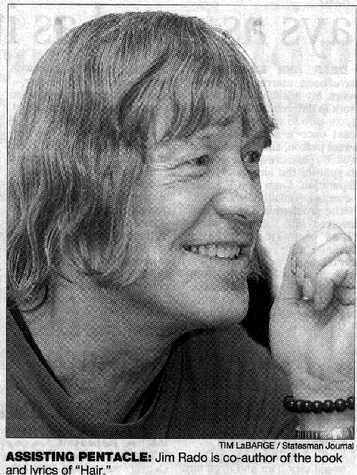 (caption) ASSISTING PENTACLE: Jim Rado is co-author of the book and lyrics of "Hair."
Rado also hopes to see "Hair" back on Broadway, with the elaborate special effects now possible.
And there is more "Hair" legacy to play out, including a musical sequel Rado has written, called "Rainbow," in which Claude, who dies in the first show, is transformed into a ghost by the rainbow and comes back to earth to haunt former President Nixon.
"It's a very strange little play," Rado said.
Then there is "Sun," an environmental musical about the depletion of the rain forests and politics, which Rado and "Hair" co-author Gerome Ragni worked on until the latter's death in 1991.
"It's a very musical extravaganza dealing with the environment," Rado said. "It's too long."
Trimming this, directing that, Rado expects to stay busy with the "Hair" legacy for a long time.
"It's the second dawning of the Age of Aquarius," Rado said.
The hippie still alive in him.
"I kind of have a tendency to verge in philosophy in that direction," he said.
Butler, who has produced several musicals and other shows and even served as a foreign policy advisor to then-Sen. John F. Kennedy, is equally caught up in the hippie-"Hair" realm.
He's produced 30 productions of the show and has seen possibly a thousand shows over the years.
Butler even joined in a few times on stage: Once playing a Silver Indian, who turns up on stage in a loin cloth, headdress and silver paint to flash a peace sign, and has been in the first act nude scene.
"It means a tremendous amount to me," he said of "Hair."
"'Hair' is such a spiritual show. It's a tremendous turn on.
"'Hair' has got a hold on us more than any theatrical piece I've heard of or been involved in."
Butler attributes part of that to the message of peace, freedom and love.
Rado, who lives in New Jersey, and Butler, a Los Angeles resident, still keep in touch and often go to productions of "Hair" around the world.
Rado also stays in close touch with "Hair" composer Galt MacDermot, who lives in Staten Island, New York.
---
---