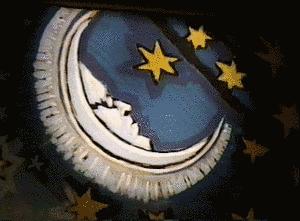 TWELFTH NIGHT
by Bill Shakespeare
directed by JEFF SANDERS
at The Pentacle Theatre
in Salem, Oregon
---
The moon is a detail of the backdrop Tony Zandol and Randy Bowser painted for the production.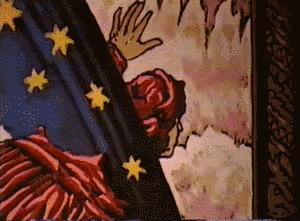 Man breaking through the veil between Earth and The Universe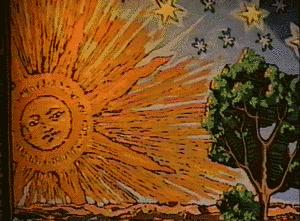 The Sun detail from backdrop.
There is controversy over the origin of the woodcut the backdrop is based on. It's supposedly a 16th work, and depicts a man (an Astronomer?) crawling between Earth and The Heavens.
The backdrop is a reversed image of the original woodcut, and colors used are based on the painted version which appeared years after the first version.
Here are two views of the full backdrop in place on The Pentacle's stage, including one with the two dimensional trees which were based on the woodcut's tree, and which move on for exterior scenes in the play:
FULL BACKDROP
use your "back" button to return from pictures to this page

Tony with his ladder can be glimpsed on the right side of the photo with the trees.
---
Newspaper review of the production by Ron Cowan for The Statesman Journal
---
"'Twelfth Night' hard to resist"
Just imagine William Shakespeare sitting on his back porch in old Stratford-On-Avon, whittling a stick and singing raucously along to "Keep On The Sunny Side of Life."
And maybe, through a miracle of time travel, you can conceive the Bard meditating on matters such as Dolly Parton's cleavage and Elizabeth Taylor's marital habits.
In Pentacle Theatre's rowdy, irreverent new production of Shakespeare's "Twelfth Night," director Jeff Sanders has taken to heart the secondary title, "or What You Will."
The program credits he show as "by and large by William Shakespeare, with a few minor alterations and emendations."
An "emendation" is defined as "an alteration to correct or improve."
Sanders, no rube himself when it comes to appreciating Shakespeare, is not out to improve but to reconnect the author's populist spirit with a modern audience.
So the cast often seems more like a commedia dell'arte troupe, they speak in tongues that seem lifted from Appalachia more than Elizabethan England, they cavort to tunes such as "Tequila" and when they burst into song, it's more often "Red River Valley" than a classical refrain.
Understandably, some subtleties get lost here.
Shakespeare's meditations on the frailties and foolishness of love, with his concluding message of reconciliation, seems almost an after thought here, but the cast does serve the Bard's language well at times and there are some vibrant performances.
The central story deals with the self-deluding nature of love.
Michael Swanson's Orsino is smitten with Olivia (Autumn Armstrong), who is mourning her dead brother. Orsino sends his emissary Cesario (actually shipwrecked Viola in disguise, Erika Sanders) to make his case.
Only Olivia falls for the surprised Cesario, who is himself/herself almost instantly in love with Orsino.
Complicating life, Viola's lookalike brother, Jason Cude as Sebastian, shows up with his loyal servant, Antonio (Larry Roach.)
The low humor is provided by Malvolio (played by Randy Bowser), Olivia's smug and officious servant who is duped into acting like a fool when he thinks Olivia fancies him.
The cast of characters includes the aptly named Sir Toby Belch (Robert Herzog), Olivia's cousin and the chief perpetrator of comic mischief.
Herzog, who plays his character with relish, resembles Bluebeard the Pirate, and he is just as unhinged.
Roach, for that matter, seems to be channeling John Travolta's alien in "Battleship Earth," with hs frightful hair-do.
Among the standouts in the cast, Jeff Baer's Feste is a witty, charismatic presence, and Bowser skillfully shifts from the haughty Malvolio to the "fool for love" goofball.
Heather Webber, a twangy Maria, is irresistable as well in a generally appealing cast.
Also irresistable is the colorful backdrop for the highjinks, a reproduction of an old wood-cut.
The audience will find "Twelfth Night" hard to resist as well, if they can just get in the spirit of brash silliness that infects and sometimes overwhelms the show.
---
return to Randy Bowser's home page by clicking HERE